Autumn Flower School Class - Harvest Festival Tray Arrangement
When - Wednesday 21st October from 6pm till 8pm
Where - Bridge Chapel, Heath Road, L19 (Covid safe environment)
Price - £50 which includes all flowers and materials to make your Harvest Festival Tray Arrangement
Join us for an evening of floristry on 21st October at Bridge Chapel, for an enjoyable evening of flower arranging, in a Covid secure venue. This flower arranging class will include a live demonstration and will cover a selection of different floral techniques.
If you have been to a previous class you can still attend as you will learn something new and create something special. However, no previous experience is needed as Florists will be on hand to help and assist you (if needed).
The Flower School Class is £50 and includes all flowers and materials needed to create an Autumnal Harvest Festival Tray Arrangement.
Due to space and restrictions, this class is being held at Bridge Chapel on Heath Road, which is just around the corner from our shop.
Payment in full is needed at the time of booking (non-refundable) - places are limited so book today! Please note if for any reason the class cannot go ahead as planned (due to Covid restrictions) or you cannot attend, we will supply you with a DIY Kit and give you access to a Virtual class, so you are still able to make the Harvest Festival Arrangement (*The virtual class is available to purchase for £40 so a £10 voucher off your next class will also be included in your DIY Kit.)
Booker Flowers and Gifts Florists are looking forward to teaching you how to make this bespoke flower arrangement with fresh flowers, foliages, gourds and apples.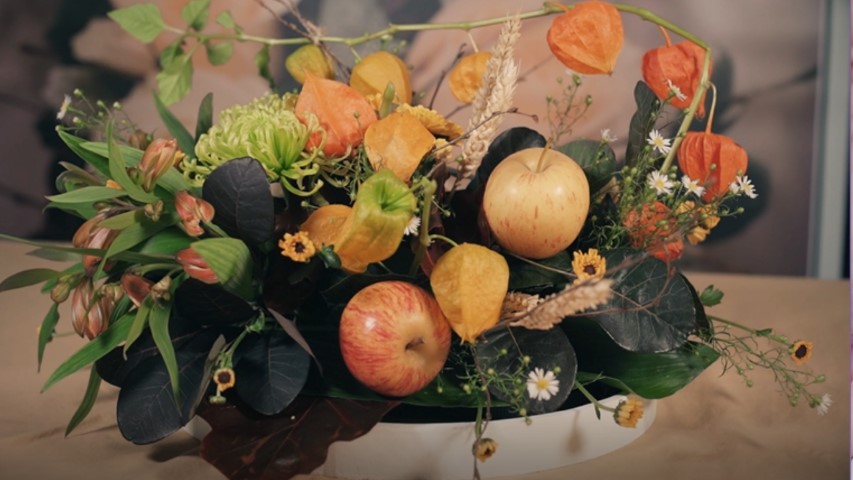 Flower arranging classes with Booker Flowers and Gifts Liverpool are a fun way to learn about flower arranging. Learn the tricks and techniques used by professional florists. During each class we vary the techniques used so that you will learn about all aspects of floral techniques including; floral foam tips; wired work; glued designs and more. You will also learn about conditioning of flowers, names and principles of design.
Floristry classes at Booker Flowers and gifts are a fun way to learn the basics of floral design and get tuition from a professional florist.
No previous floristry experience needed, as you will receive professional tuition and all materials needed to make the floral design shown. The flower arranging classes are hands-on and a perfect introduction into floristry with guidance from professional florists.