Environmental & Sustainability Policy - Booker Flowers and Gifts
We at Booker Flowers and Gifts create stunning floral designs. However, we are all too aware that the floristry industry can have a negative environmental impact and are committed to leading the industry in terms of minimising the negative environmental impact of our business. To this end we have made a commitment to reach Net Zero Emission before 2030 ahead of the proposed UK Government target of 2050.
We have registered with the SME Climate Hub which is committed to Net Zero Emission before 2050 and to halve greenhouse gas emissions before 2030. SMEs around the world are making a climate commitment to work together to achieve this target. We have also joined the United Nations 'Race to Zero'. This is a global campaign to rally leadership and support from businesses, cities, regions, and investors, for a healthy, resilient, zero carbon recovery, that prevents future threats, creates decent jobs, and unlocks inclusive sustainable growth.
As a small business we have an informal but highly developed environmental policy (regularly reviewed) to minimise the environmental impact of our activities, and to reduce waste. Environmental sustainability and minimising our carbon footprint shapes our practice to a very high degree. As professional florists and informed individuals the whole team is committed to this policy, and we make every effort to pass this ethos on to customers when discussing designs and arrangements.
Our Environmental & Sustainability Policy aims to integrate sustainable development into all the Booker Flowers and Gifts activities and to establish and promote sound environmental practice in our operations.
We will achieve this by;
· Complying with relevant legislation and regulations.

· Being an environmentally responsible neighbour in the community.

· Continually monitoring our inbound and outbound waste.

· Researching new and existing suppliers to make sure they aligned with our goals for commitment to Net Zero by 2030.

· When possible, buying flowers and foliage from local growers with no plastic involved in their packaging, organically grown or peat-free growing, and who use biomass to heat boilers.

· Buying in flowers and foliage supplied by growers in the British Isles to reduce 'Flower Miles'.

· When buying flowers from abroad, we only work with suppliers that are MPA and MPS certified to ensure that our flowers are grown sustainably and cultivated by workers who are treated humanely.

· Where products are imported for other countries, we check that staff are not victims of modern slavery and are paid a fair wage for their labour.

· Our bouquets are delivered in water-filled eco-friendly wrapping in unlaminated cardboard boxes or wrapped simply in paper.

· Using bio-degradable floral foam and where possible opting for natural materials to form a base for our designs such as moss or twig structures.

· Monitoring our stock levels carefully to ensure there is minimum waste. Any spare flowers are given to children or students to practise floristry, or, as a last resort, disposed of by composting.

· Staff and/or customers bringing hand-picked foliage which has been grown in their gardens, for use with floral design.

· Working with suppliers to reduce inbound plastic work and return cardboard packaging and crates to the relevant supplier, where possible.

· Taking plastic out of packaging to minimise outgoing plastic, any plastic waste generated will be disposed of with care and using best practice techniques.

· Keeping purchase of new plastic materials (such as plant pots and buckets) to a minimum by carefully cleaning & reusing many times.

· Working with suppliers to reduce waste, even through we may opt for the more expensive supplier to align with our goals.

· When possible, we consider recyclable alternatives for displays such as glass jars or vases which can be re-used.

· Sourcing gift bags that are made from recycled material.

· Enhancing awareness among our customers – educating and motivating them to act in an environmentally responsible manner and raising awareness of 'Flower Miles'.

· Where practicable, we will provide information and assistance to customers on environmental issues arising from our activities.

· Using minimal packaging and re- use inbound cardboard for our online gift service

· Sorting our waste and recycling where possible. Green Waste is composted.

· All our correspondence is sent via email to cut down on paper and energy used for printing.

Minimising the use of paper in our workplace and working towards a paperless culture.

Delivery routes planned carefully to ensure the most direct route and reduce fuel emissions.

Planning to renew our fleet of vehicles to electric or hydrogen powered, both of which can be generated from zero-carbon energy. Note: there is negative carbon impact if vehicles are disposed of before they are no longer viable.

Opted for a fuel card to purchase Diesel for our vehicles which allows for carbon offset to compensate for fleet fuel carbon emissions.

Not using gas as a method of power supply for our business use.

Changing our lighting to LED lighting.

Using an electric supplier (Octopus - awarded for the second year running 'the company that's done the most to advance UK renewables') who only get energy green sources, supplying 100% green electricity to customers, and investing in new renewable generation.

· Utilising a waste company (B&M Waste Services - an award-winning recycling-led waste management solution) who has a zero waste to landfill policy and have a legal obligation to adhere to TEEP. They separate green waste - it goes to anaerobic digestion (a sequence of processes by which micro-organisms break down biodegradable material in the absence of oxygen) which means they create energy from it.

Sourcing loo roll from 'Who Gives A Crap', made from 100% recycled fibres and they donate 50% of their profits to help build toilets and improve sanitation in the developing world.

· When choosing a supplier for staff uniform, we chose 'Lucy and Yak' rather than using a traditional uniform shop because of their environmental and ethical stance.

· Using recycled printer toner cartridges and returning them to the supplier (The Cartridge People) who work in partnership with WEEE Recycling.

We are no longer selling helium filled balloons due to their many negative effects on the environment including the limited supply of helium.

We have changed our gift candles to a natural product, soy-based candles made from soybean oil which are sourced locally and even burn slower than regular candles.

We have changed our gift plush toys (teddies etc) to Eco Cuddlies, made from 100% recycled material made from plastic bottles.

· We are looking at diverting rainwater so that it can be used within the shop for the flowers.
Booker Flowers and Gifts are also involved with several environmental initiatives: -
We have engaged with a community group of florists who work with Florismart (a flower supplier who provides support for florists) to put pressure on companies to make more environmental changes.
We continually seek new and sustainable ways of working, and we are an active member of Clean Growth UK (a pioneering, university-led innovation network of forward-thinking green businesses). They provide resources and support to help businesses to be innovative and grow.
We continue to engage with the local community for our Charitable and Environmental Outreach Work and this year will be participating in Global Goals Week (15th to 24th September 2023).
As part of the UN universal promise to be Net Zero by 2030 this is a shared commitment between partners to accelerate action on the Sustainable Development Goals (SDGs).
We are currently planning with the local business community via the 2030Hub to explore collaborative ideas and individual actions during this year's Global Goals Week
Each year we aim to make our activities in the community even bigger by creating more awareness of climate change via social media.
We are embarking on a possible new venture to work in partnership with other local businesses (florists, coffee shops and microbreweries) to help dispose of our green waste organically. As our green waste is too wet for biomass (more water than energy) and there is too much of it for home composting therefore we need other brown matter to break it down. So, we want to collaborate to utilise other businesses brown matter, to help compost our natural waste and taking steps to create a circular economy. Testing and research has been taking place and we have made the first of many steps to explore new opportunities and make changes in pursuit of a more sustainable business.
As the leader of the business, Gemma continues to continually develop her knowledge and understanding of net zero and has attended workshops, conferences, and courses. Gemma is also in the process of measuring out our carbon footprint so we can be sure of reaching our Net Zero target of 2030.
Our commitment to providing eco-friendly flowers and design solutions is ongoing and regularly reviewed and evaluated.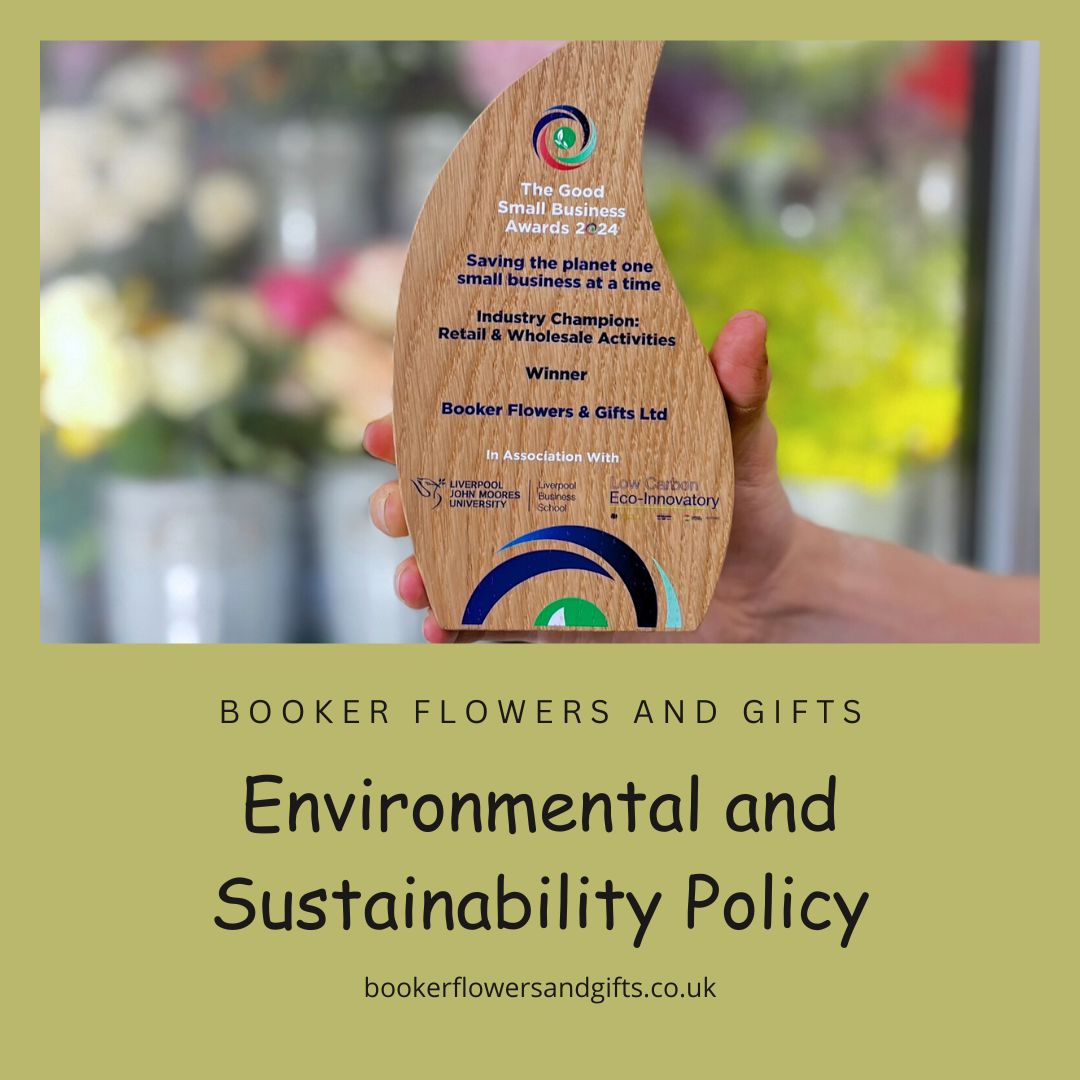 Booker Flowers and Gifts, 7 Booker Avenue, Liverpool, L18 4QY
01517244850
Gemma@bookerflowersandgifts.co.uk