Christmas Floral Demonstration Charity Evening - Learn how to make your own Table Arrangement
This year the Christmas Floral Demonstration Charity Evening and Gift Bazaar was held on Wednesday 16th November at Bridge Chapel, Heath Road to support Marie Curie (Woolton) and The Joshua Tree Charity. The evening was a great success with over 100 people in attendance and lots of local artisans selling their hand-made items.
Before Fleur started on her Floral Masterpiece (inspired by Alice Through The Looking Glass) the evening started with a 'How To' demonstration, and everyone got to watch how they could make their own eco-friendly Table Arrangement for their Christmas Dinner Table.
The demonstration showed how easy it was to make your own Table Arrangement and then vouchers for the DIY Kits went on sale for £65 - with £7 of the sale going to the 2 charities.
However, if you were unable to purchase a kit on the night and would like to have a go and make your own eco-friendly Christmas Table Arrangement then click the button to buy below to buy your voucher.
All flowers and materials will be available to collect from our shop from 21st December (to make sure your flowers are fresh for Christmas Day)
The Kit also includes a step-by-step video to watch (in the comfort of your own home) so that you can master the techniques needed to create a beautiful Table Arrangement for Christmas.
The cost of the kit is £65 and for 1 week only we will still donate £7 from your voucher money to Marie Curie and The Joshua Tree - so buy today and help out 2 worthy charities.
This is the perfect gift for yourself, or your friends and family and can be done in the comfort of your own home - no experience is needed just a bit of space, a pair of scissors, and access to YouTube. We provide everything else.
*for 1 week only £7 will go from the price to Marie Curie & The Joshua Tree
Learn With Fleur - Professional Florist & Tutor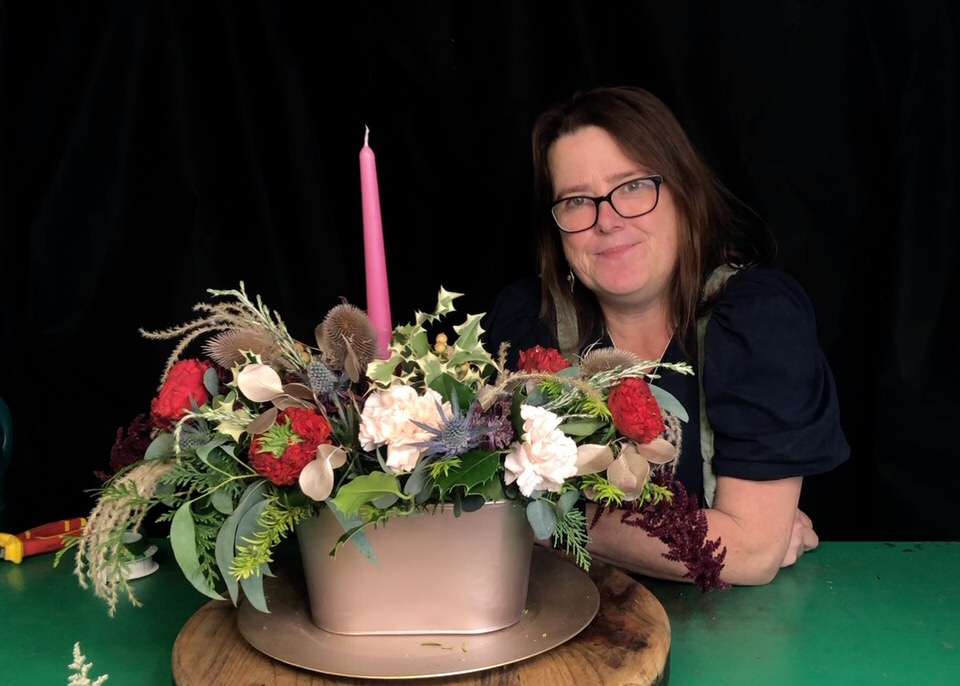 Fleur has been a Florist since the age of 14 and enjoys mentoring young students and also holding Flower Workshops to make Floristry accessible to all.
Fleur enjoys the Floral Demonstration evenings, as it gives her creative freedom of what to create. This year she choose Alice, Through The Looking Glass for her Masterpiece Creation. The Masterpiece created on the evening was too large to raffle off - however it has been donated to Marie Curie (Woolton) so that the staff and patients can enjoy it.
So if you still want to purchase a kit to make your own Christmas Table Decoration like Fleur did, then click below or call us: Tel: 0151 724 4850
Once you have bought a DIY Kit you will be given a secure YouTube link, which will be a professional video giving you step-by-step instructions (not the video we filmed on the night)