Christmas Floral Demonstration Charity Evening
**Update** The Charity evening raised a fantastic £2,000. Which will be split between Marie Curie and Alder Hey.
Thank you to everyone who attended, the stall holders, the charities, and of course the star of the evening, little Fairy Faye. We hope everyone had a great evening, we really do appreciate everyone who came, we couldn't have raised this amount without you all. The Charities are both very grateful. To watch a snippet of the evening, you can see it on our YouTube channel.

Join us for a Heartwarming Charity Event in Liverpool
Following last year's success, we are holding another Christmas Floral Demonstration Charity Evening and Gift Bazaar on 22nd November 7pm till 9pm (doors open at 6.30pm) which will be held at Bridge Chapel, Heath Road. This exciting Christmas Event in Liverpool promises to warm your heart, uplift your soul and get you in the Christmas Spirit.
Join us for an evening enjoying drinks and nibbles while you watch professional Christmas floristry demonstrations and buy some beautiful handcrafted unique "not on the high street" Christmas gifts - a perfect festive night out with friends.
Tickets for the charity evening are £17 each and include a sandwich buffet and tea, coffee, or soft drinks. Or if you fancy a little tipple, we do have Prosecco available for a small fee.
Also included in the price is a ticket to the prize draw (more prize draw tickets can be purchased on the night) to win the floristry pieces and other prizes at the end of the evening.
Payment is needed at the time of booking* Please note this is a demonstration evening only and not a hands-on Floristry Class - although you will learn some tips of the trade.
Click below to book and pay for the charity night online or call us at Tel: 0151 724 4850 to reserve your place.
This is a great annual Christmas Event in Liverpool to get you in the festive spirit, whilst also raising money for two local charities close to our hearts.
Book now: Wednesday 22nd November - 7pm till 9pm (doors open at 6.30pm) at Bridge Chapel Church, Heath Road, L19.
Once you have booked you will receive an email confirmation - to save paper we are not printing tickets, just turn up on the night and give your name, to gain entry into the event and your raffle ticket.
Delightful Buffet and Refreshing Drinks
What's an evening of celebration without delectable treats to tantalize your taste buds?
Included in your £17 ticket are sumptuous delights waiting to be savored. Indulge in a carefully curated buffet, featuring an array of mouthwatering dishes that cater to every palate.
And fear not, for your thirst will also be quenched with a selection of hot and cold beverages that'll keep you refreshed throughout the night or to celebrate the evening in style glasses of Prosecco will be available to buy for a small fee.
Christmas Craft Stalls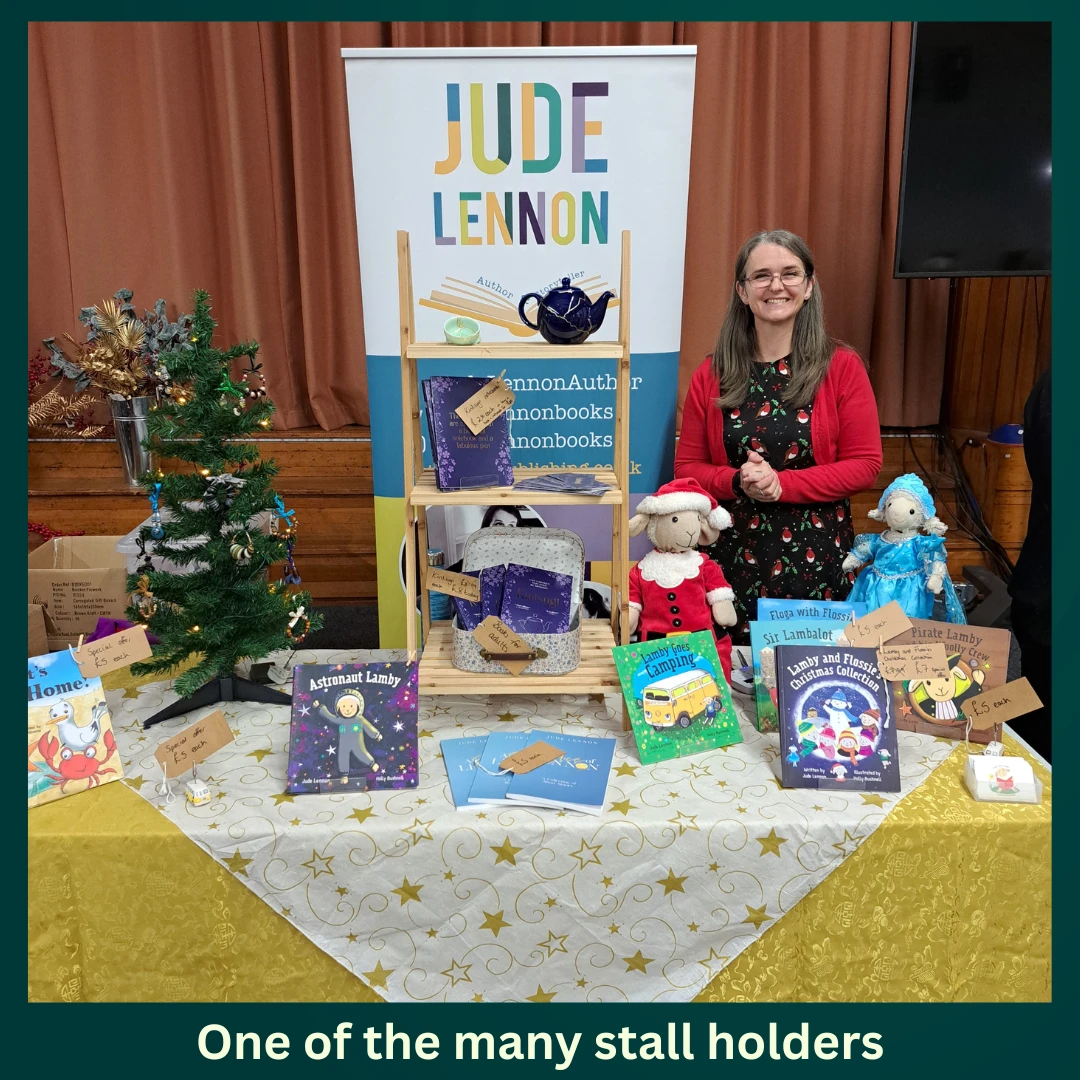 The event doesn't just stop at floral beauty! Picture a haven of Christmas craft stalls, each brimming with unique, handmade treasures that are perfect for gifting or adding a touch of festive magic to your own home.
From intricately designed ornaments to charming seasonal decor, these stalls will be a delight for the eyes and a haven for those seeking one-of-a-kind creations from local artisans.
Charity Prize Draw
As the evening unfolds, get ready for an electrifying culmination that holds the promise of excitement and surprise.
Our prize draw extravaganza is your chance to win remarkable prizes donated from the craft stalls and the two floral masterpieces made by Fleur on the night.
With each prize draw ticket purchased, you'll be supporting Faye's Fairy Potions (on behalf of Alder Hey) and Marie Curie Cancer Charity in Liverpool, a beacon of hope and care for those affected by cancer.
At the heart of this event lies a deep commitment to giving back to the community. As we gather under the roof of Bridge Chapel and share moments of joy, all proceeds from the evening will be dedicated to Faye's Fairy Potions and Marie Curie Cancer Charity in Liverpool.
Every ticket sold, and every prize draw ticket purchased will contribute to making a tangible difference in the lives of those battling cancer in Liverpool.
A Night of Charity and Celebration
Last year the Christmas Demonstration evening was a great success with over 100 people in attendance, lots of local artisans selling their hand-made items, and our creative and talented Florist Fleur demonstrating her skills with an 'Alice Through the Looking Glass' masterpiece.
Last year, the final floral masterpiece was too large for the prize draw at the end of the evening, so it was donated to Marie Curie Cancer Centre so that the staff and patients could enjoy it.
Fleur always enjoys the Floral Demonstration evenings, as it gives her creative freedom of what to create.
Imagine being captivated by the intricate artistry as skilled florist Fleur transforms petals and foliage into breathtaking masterpieces. Get ready to immerse yourself in the world of floral wonder, where nature's beauty takes center stage.
This year we are excited to see what theme Fleur will come up with. So far we have had Strictly Come Dancing, Alice In Wonderland, Lion Witch & The Wardrobe, and The Wizard of Oz (just to name a few). However, we will have to wait until the night to see what amazing concept Fleur creates this year.
Our charity event is poised to be an unforgettable evening dedicated to spreading love, kindness, and the true spirit of the holiday season. The doors open at 6.30pm, so you can browse the local craft stalls before taking your seat to watch the floral demonstrations which start at 7pm.
Our Bridge Chapel charity event on November 22nd is a celebration of all that is good in humanity. It's a celebration of our capacity to care, to create, and to uplift. Let's join hands, hearts, and spirits to make this evening a resounding success, leaving an indelible mark on the lives of those who need it most.
Brave Faye Gives Back to Alder Hey Hospital

When we first heard about Faye's story we knew we had to help her reach her target for Alder Hey Children's Hospital. In March 2023 Faye was diagnosed with a rare childhood cancer - Rhabdomyosarcoma - a rapidly growing tumour in her tummy. Around 55 children a year in the UK are diagnosed with this cancer. Faye started chemotherapy treatment in Alder Hey straight away but due to a number of issues caused by her cancer, Faye remained in hospital for 3 months.
On 13th July Faye underwent major surgery to remove her tumour. After 13 hours Faye was sent to ICU and we were told that, despite best efforts, the surgery had been unsuccessful and her tumour remained. Following her surgery, Faye battled sepsis and needed further emergency surgery.
In August Faye's treatment will intensify as she must move to Manchester for Radiotherapy. This treatment will take place daily for 6 weeks and will require another long stay away from home.
Despite all this, Faye has decided to sell Fairy Potions locally in Liverpool. She has been making these in between her treatments and has set up a pop-up shop to sell them to our friends and neighbours. She has begun to sell these locally with funds going to the ward that has supported her (and us) so well.
Hearing Faye's story touched our hearts and we want to support her in her venture to raise as much money as possible for Alder Hey's Children's Hospital. Her target initially was £5,000, however, she has already reached £6,500 (at present) We are hoping that Faye and her family, will be able to come to our Charity Evening with her Fairy Potions so that you can all meet this brave and bright little girl.
To read more about Faye's Fairy Potion appeal, see her Charity JustGiving Page.
Get Your Tickets Today
As the date approaches, we extend a heartfelt invitation to each and every one of you to be a part of this evening of compassion, creativity, and camaraderie.
It's not just an event; it's an opportunity to be a beacon of hope and support for those in need. By attending, you're not just attending a night of festivities – you're becoming a part of a movement that embodies the true essence of the holiday season.
Don't miss out on this chance to make a difference and be a part of something truly remarkable. Secure your spot at the charity event of the season by purchasing your £17 ticket today.
Gather your friends, family, and loved ones, and come join us in celebrating the beauty of giving, the joy of the holidays, and the power of community.
Don't hesitate – mark your calendars for November 22nd and RSVP to this extraordinary evening of charity, community, and celebration. Together, let's create a ripple of goodness that echoes far beyond the walls of Bridge Chapel. Your presence matters, your support matters, and together, we can make a difference.
From floral wonders to delectable feasts, from heartwarming crafts to the thrill of the raffle, this evening promises to be a symphony of love, laughter, and giving. Join us in making memories, spreading joy, and contributing to a cause that truly matters. Your £17 ticket is not just an entry pass; it's a key to unlocking a world of compassion and impact.
Remember, every pound raised on this magical night will go directly to Faye's Fairy Potions (on behalf of Alder Hey) and Marie Curie Cancer Charity in Liverpool, serving as a lifeline for those navigating the challenges of cancer. Let's stand together, let's give generously, and let's celebrate the spirit of giving that defines this wonderful season. See you on November 22nd at Bridge Chapel – where love, kindness, and hope will blossom like never before.
About Us - Booker Flowers and Gifts, Liverpool Florists

We are local Liverpool Florists who strive to offer flower delivery in Liverpool whilst also being kind to the planet and the people along the supply chain that produce them.
We offer Same-Day Flower Delivery in Liverpool as well as future dates and can organise the delivery for other areas through our network of florists via Interflora.
We hold Flower School Workshops throughout the year and also have Virtual Classes, that you are able to do in the comfort of your own home.
To find out more details about our Flower School Classes and Workshops, sign up for our Flower School Newsletter Liverpool Flower School Newsletter
Booker Flowers and Gifts, 7 Booker Avenue, Liverpool, L18 4QY
01517244850
Gemma@bookerflowersandgifts.co.uk