Deliver Magic This Christmas with Festive Flowers | Christmas Bouquets and Flower Arrangements - Liverpool Christmas Flower Delivery
The holiday season is a time for spreading joy and warmth, and what better way to do so than by sending a beautiful bouquet of Christmas flowers to your loved ones? In a world where convenience and online shopping often take precedence, it's essential to remember the charm and personal touch that local independent florists can offer. Booker Flowers and Gifts, beloved independent florists, understand the magic of Christmas and how to capture it in their stunning floral arrangements and Festive Bouquets, with delivery available throughout December, including Christmas Eve. Alternatively, you can arrange to collect your Christmas Bouquet from their Flower Shop on Booker Avenue. Plus if you spend £70 or more on Christmas Flowers, you will automatically receive a FREE locally-made eco-friendly scented candle in a Christmas Scent. (Terms and Conditions apply - see below)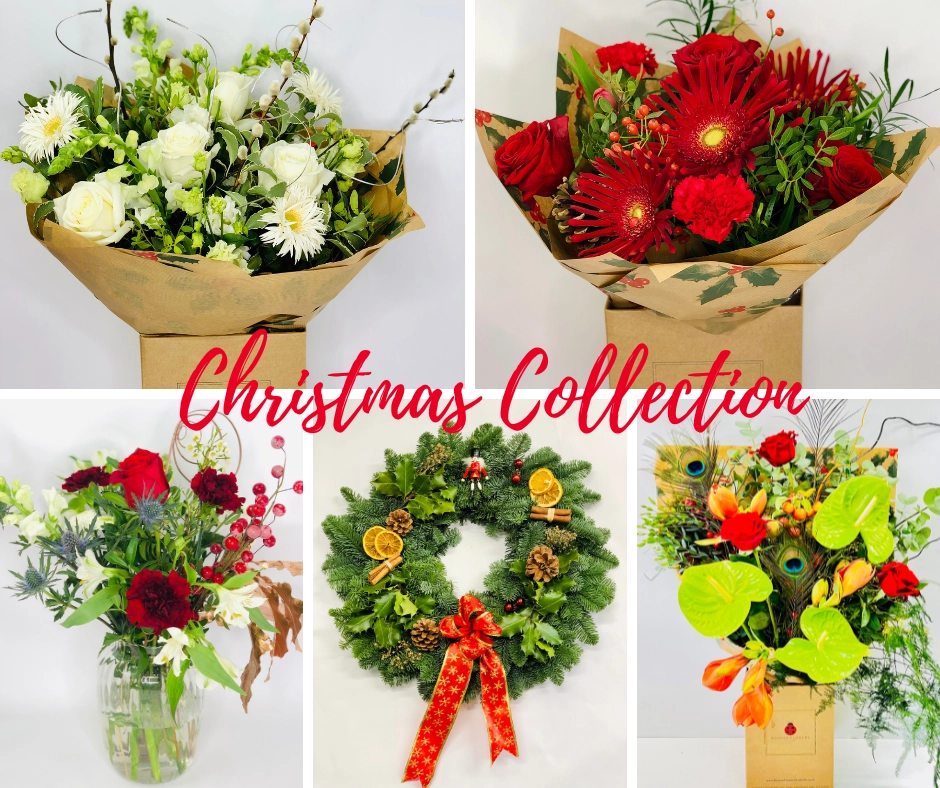 The Christmas Collection at Booker Flowers and Gifts features seriously special seasonal stems in a mix of traditional reds, frosty whites, cool blues, and fresh evergreens. From hand-tied bouquets to arrangements in an oasis, you are sure to find something for everyone this Christmas. Including Lillies, Roses, Hydrangea, Blooms, Eryngium Thistle, Eucalyptus, Berries, and Pine Cones.
One of the most significant advantages of supporting local independent florists like Booker Flowers and Gifts is their ability to create unique and bespoke Christmas floral arrangements. When you walk into their shop or visit their website, you'll be greeted by an array of beautiful options, each with its own touch of holiday magic. Whether you want a classic red and green bouquet, a whimsical winter wonderland, or something completely original, their skilled florists can bring your vision to life.
Your Christmas Bouquets will be lovingly arranged by professional florists from Booker Flowers and Gifts and gift-wrapped in their signature eco-friendly packaging. They offer same-day flower delivery and Sunday Flower delivery and all of their fresh festive flowers are backed by their 7-day freshness guarantee, so you won't be disappointed.
At Booker Flowers and Gifts, the focus is on delivering the highest quality flowers. They take great care in sourcing the freshest blooms to ensure that your Christmas arrangements not only looks stunning but also lasts longer. Your loved ones will be able to enjoy the beauty and fragrance of their festive blooms throughout the holiday season.
For that bit of extra luxury, they also do a lovely range of Christmas Gift Sets, so you can send a lovely gift to someone special including Flowers, Chocolates, Champagne, new eco-friendly Scented Candles, and much more. A popular favorite is our Festive Fizz Giftset which not only includes a beautiful festive bouquet but a bottle of Prosecco, a box of salted caramels, and a free festive Scented Candle.
Order now for Christmas delivery, Booker Flowers and Gifts are open and delivering every day until Christmas Eve. Alternatively, order now and click and collect from Booker Flowers and Gifts, on Booker Avenue, and don't forget about their special offer. So let someone know you are thinking of them with a gorgeous bouquet of Festive Flowers by Booker Flowers and Gifts and don't forget to spend £70 or more and they will also receive a Christmas Scented Candle for free.
The experienced florists at Booker Flowers and Gifts are passionate about their craft. If you're unsure about the best flowers to choose for your Christmas arrangement or need help with a specific request, they are more than happy to provide expert guidance. You'll receive personalized service and attention to detail that can't be matched by large, impersonal online flower retailers. Just pop in to see them - they are open 7 days a week.
In addition to their commitment to quality and customer satisfaction, Booker Flowers and Gifts also takes pride in their eco-friendly practices. They use sustainable and environmentally responsible methods in their floral design and packaging, making them a great choice for those who appreciate eco-conscious shopping.
Sending Christmas flowers from a local independent florist like Booker Flowers and Gifts is a wonderful way to add a personal and heartwarming touch to your holiday celebrations. Their unique and customized arrangements, commitment to quality, support for the community, expert advice, and eco-friendly practices make them an excellent choice for your festive gifting needs. This holiday season, consider choosing Booker Flowers and Gifts to spread joy and warmth to your loved ones with the beauty of fresh, handcrafted Christmas flowers. It's a gift that embodies the true spirit of the season.
Christmas Wreaths Liverpool | Booker Flowers and Gifts
Booker Flowers and Gifts also has a large selection of Christmas Door Wreaths, which would look lovely on your Door this Christmas.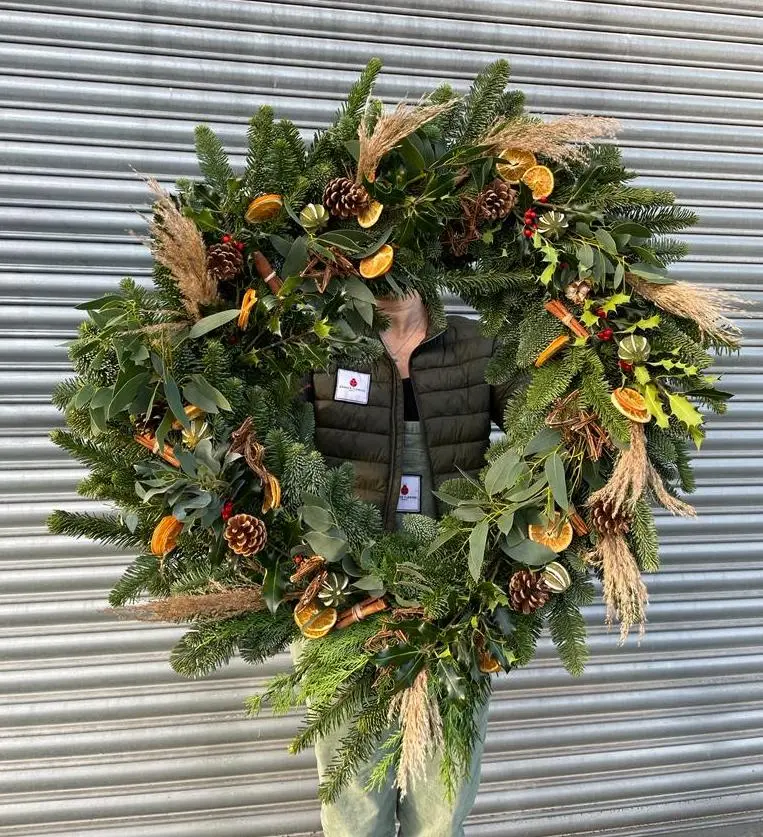 Large Bespoke Wreaths for a Larger front door, business, or retail shop are also available on request.
You can either order a Christmas Door Wreath to be delivered to yourself or someone special or order one for collection and pick it up from Booker Flowers and Gifts, on Booker Avenue, on a day that suits you. They are open every day up to and including Christmas Eve.
Christmas Door Wreaths are made with fresh spruce and include festive decorations and ribbons in a variety of colours.
As well as Christmas Door Wreaths Booker Flowers and Gifts also has smaller grave wreaths, and grave pots which are available in fresh flowers and artificial flowers. These are popular for your loved ones who are no longer here. These can be ordered by phone and collected on a day that suits you of you can visit the Flower Shop on Booker Avenue to have a look at what they have available.
If you would prefer to make your own Christmas Door Wreath, rather than buy one, then how about one of their Christmas Classes?
Christmas classes are always popular and sell out immediately, so to avoid disappointment Booker Flowers and Gifts have 'Virtual' Christmas Classes, which include a DIY Kit with everything you need and a professional step-by-step video showing you how to make a Christmas Door Wreath from scratch. The DIY Kit contains all your materials and sundries needed (including decorations) and you can either choose from a Traditional Christmas Door Wreath or a Luxury Christmas Door Wreath which comes complete with fairy lights.
The Virtual Classes are £50 each and are a great Christmas activity to do with the kids, or with friends and family. Once completed you will be able to hang your door wreath with pride over the festive period.
As well as Bouquets and Wreaths, Booker Flowers and Gifts also offer some lovely Christmas Gifts, such as wines, champagne, locally-crafted Liverpool Gin, vases, eco-friendly scented candles, and delicious Belgian chocolates that can be delivered or collected with your flowers. To see the full range, see the extras section on their website, or pop in the Shop to see what they have available.
Christmas Trees Liverpool | Booker Flowers and Gifts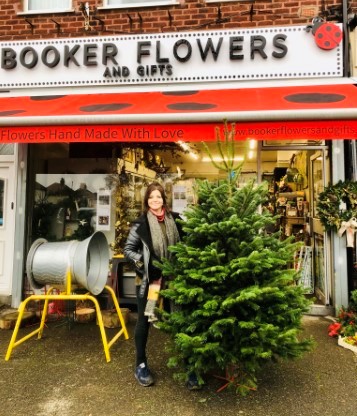 Booker Flowers and Gifts Liverpool only sell Grade A1 Quality Noordman Pine Christmas Trees. They are well known for being one of the best suppliers of Xmas Trees. Grade A1 quality in Christmas Trees means they get the pick of the best shapes. Noordman Pine Christmas Trees are the low needle drop variety from Scandinavia.
Just as with their flowers, Booker Flowers and Gifts focuses on delivering the highest quality Christmas trees. Each Nordmann Pine tree is carefully selected to ensure it's fresh, vibrant, and ready to take center stage in your holiday celebrations. Your loved ones will appreciate the longevity and beauty of this remarkable tree throughout the holiday season.
Booker Flowers and Gifts Allerton Liverpool L18, has been selling Christmas Trees for over 35 years so really know their stuff. They have used the same supply chain for this whole time so the Christmas Trees come from a trusted source and over the years they have become known for selling the Best Christmas Trees in Liverpool - with many people going to them year after year.
They have 4 main sizes of Noordman Pine Christmas Trees. From 4-8ft. Large sizes can be sourced on request, just give Booker Flowers and Gifts a call or email and let them know what size Xmas Tree you require.
Booker Flowers and Gifts offers Christmas Tree delivery, including same-day delivery and Sunday Christmas Tree Delivery on a day that suits you, to fit your schedule. Alternatively, if you are driving past Booker Avenue, you will see all their Christmas Trees outside, so you can also just stop and select your own Christmas Tree - pre-ordering is not essential, but advised as they do sell out fast year after year.
Booker Flowers and Gifts takes pride in offering real Nordmann Pine Christmas trees, a variety known for its elegant appearance, excellent needle retention, and soft, glossy, and deep green needles. These trees are handpicked to ensure you get the highest quality, and they add a touch of tradition and natural beauty to your holiday decor. Choosing a real Nordmann Pine tree from Booker Flowers and Gifts means you can enjoy the fresh scent of the forest and the festive spirit it brings into your home.
Liverpool Florist Reviews | Booker Flowers and Gifts
Having been nominated the Best Florist in Liverpool by the independent Three Best Rated for the 5th year running you can feel secure with Booker Flowers and Gifts. So send beautiful Christmas Flowers this year from Booker Flowers and Gifts and be sure to make someone smile this Christmas.
They pride themselves on being one of the best Florists in Liverpool and their customers agree. Many of them come back year after year.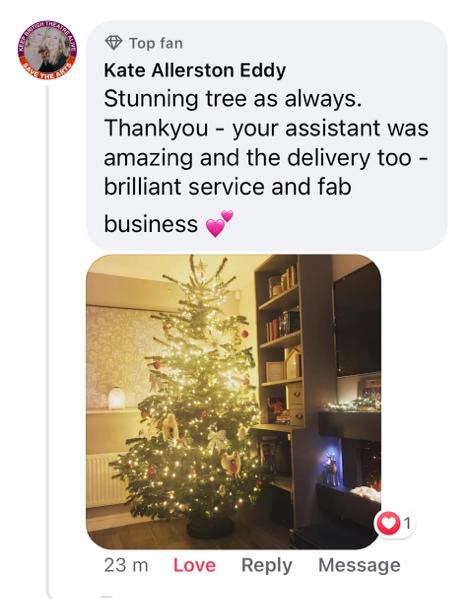 Don't just take our word for it, here's what our customers have to say about us:
Google Review David Painter December 2019
We buy our Christmas Tree from here every year and it is always great quality. Great service from all the staff who are always friendly and helpful. We bought a few extra little gifs too which will be great presents. Totally recommend this place (and the cafe next door is nice for a quick bite too). Thanks again.
Google Review Gillian Reynolds October 2020
I sent my wonderful daughter in law birthday flowers from you and she was really and truly delighted. So I am too. Very many thanks.
Twitter Review Sandi December 2020
Absolutely beautiful Christmas Tree, probably the best I've ever purchased. Really quick delivery. Will definitely use #BookerFlowers again. Superb.
Contact Details
Booker Flowers and Gifts have gorgeous Christmas Flowers in lots of styles and colours, Christmas Door Wreaths to brighten up your front door, and not forgetting Noordman Pine Christmas Trees. They certainly have something for everyone this Christmas. Plus spend £70 or more and you will automatically receive a FREE eco-friendly scented candle in a Christmas Scent. (Terms and Conditions apply - see below)
Call Gemma and her team today on 0151 724 4850 or order online for Liverpool Christmas Flower Delivery 7 days a week – including Christmas Eve delivery.
Booker Flowers and Gifts, 7 Booker Avenue, Liverpool, L18 4QY
01517244850
Gemma@bookerflowersandgifts.co.uk
Booker Flowers and Gifts - Liverpool Florist
FREE Christmas Candle Offer - Terms & Conditions
To celebrate Christmas this year we are giving all our customers a FREE scented candle, with all orders of £70 or more. We will add the free candle at the point of accepting the order on our system so don't worry that it is not in the cart or on your receipt. Please do not add the candle yourself (as you will end up paying for it and then receiving two!) unless, of course, you want 2 scented candles (and we wouldn't blame you - they smell gorgeous!) In this instance, we will give you two different scents so that you can sample the amazing different scents of Christmas.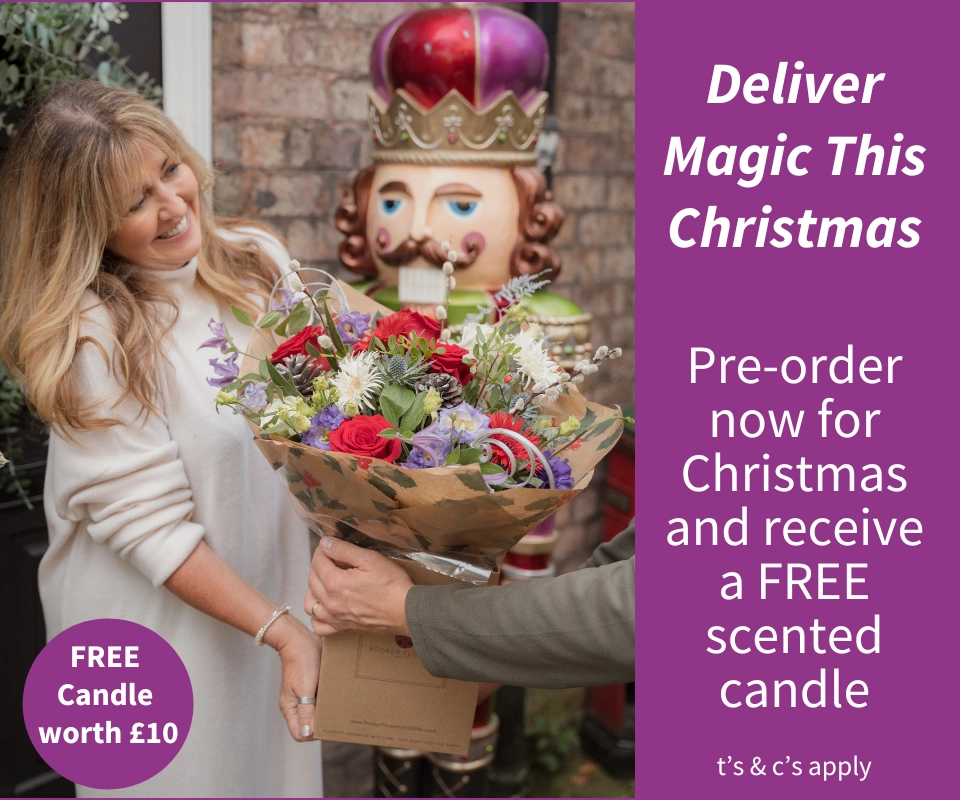 To qualify for this special offer please read these Terms and Conditions:
> Only valid on orders of £70 or more (excluding delivery fees)
> Only valid on orders for delivery and/or collection Christmas Week 18th to 24th December 2023
> Only valid on orders that we process ourselves (Liverpool postcodes: L1, L2, L3, L4, L5, L6, L7, L8, L11, L12, L13, L14, L15, L16, L17, L18, L19, L24, L25, L26, L27, L36, L70) If your order is for delivery outside of these areas then you will not be entitled to a free candle.
> Only valid on orders from our Christmas Flowers Collection only
> No limit on the number of orders you make - so if you want to order 2x £70 Christmas bouquets you will receive x 2 Christmas Candles
> Candle Offer cannot be used in conjunction with any other offer
> A scented candle will automatically be added to your order (no voucher code needed)
> Candle scent will be selected according to availability (you are unable to request a scent)
> Candle offer subject to availability