Easter Flowers for Liverpool Flower Delivery. Easter Weekend 7th - 9th April 2023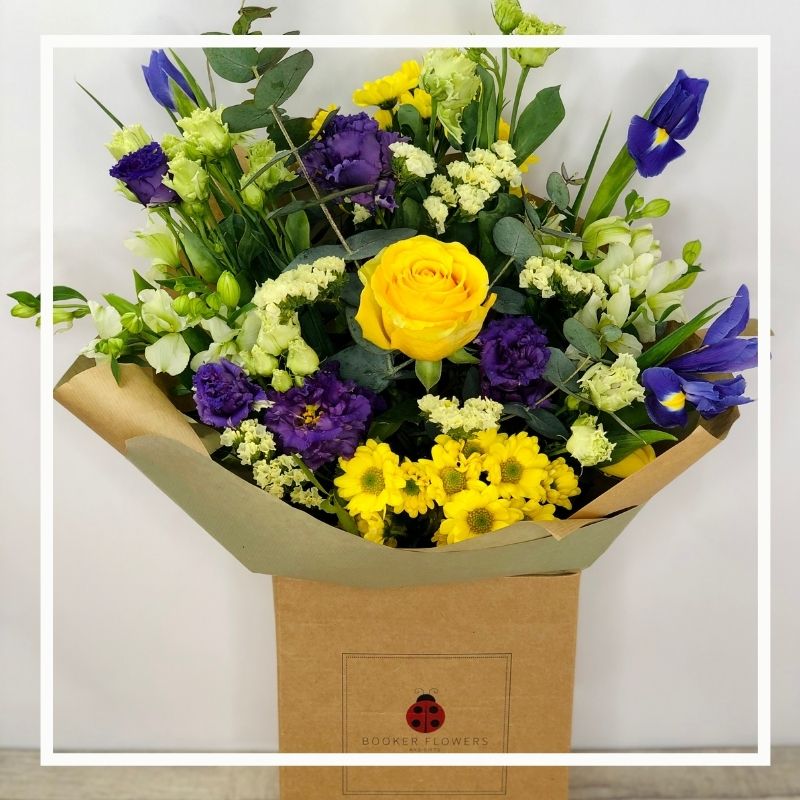 Order your Easter Bouquets from Booker Flowers and Gifts to be guaranteed beautiful flowers delivered in Liverpool.
Not only do we have beautiful fresh flowers but we also have Easter Gift Sets, Chocolate, Wine, and Easter Table Decorations which would look great in the center of your table this Easter.
Booker Flowers and Gifts are award-winning Liverpool florists with 30 years of experience offering same-day and next-day Liverpool flower delivery from professional and experienced florists.
From 1st April their new Easter Collection which has a wide range of beautiful Easter flowers is available for Liverpool delivery or collection from Booker Avenue, L18.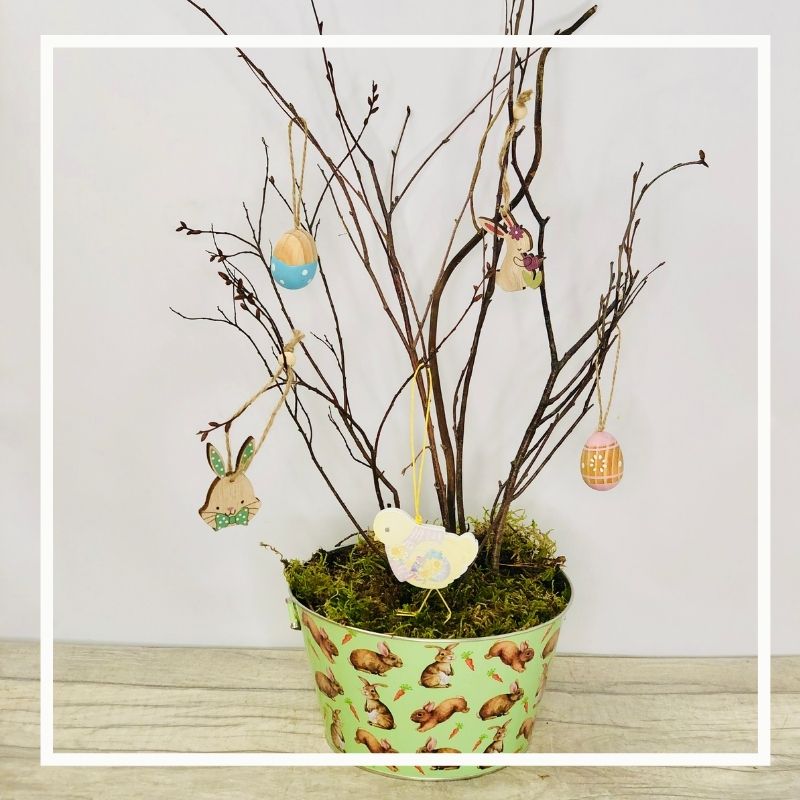 We also have Easter Flower School Classes including How to Make your own Easter Tree and How to Make your Own Easter Door Wreath - which you can attend at the shop, or do as a Virtual Class.
They make the perfect Easter Gift or would make a great Easter Craft activity for yourself and your children.
Our Flower School classes, which are held at Booker Flowers shop on Booker Avenue, are always popular and get booked up quickly, so book today to avoid disapointment.
No previous experience is needed for our Flower School Classes.
Easter Flower Delivery - Liverpool
As we approach Easter we want to assure you that we are working hard to deliver your heartfelt wishes.
To that end, we may have to substitute certain stems (due to shortages) but we can guarantee we will create something seriously special on your behalf using a mix of our very best in-store stems.
So even if you can't see your loved one this Easter, you can still let her know you are thinking of them by letting us deliver flowers.
We have some beautiful Easter Flowers; Gift Sets; Wine; Easter Cards and Chocolates that you can order today and we will deliver them over Easter.
Easter Opening Hours:
Our opening hours over Easter are:
Good Friday 7th April 9am - 5.30pm
Saturday 8th April 9am - 5.30pm
Easter Sunday 9th April 10am - 4pm
Bank Holiday Monday 10th April - CLOSED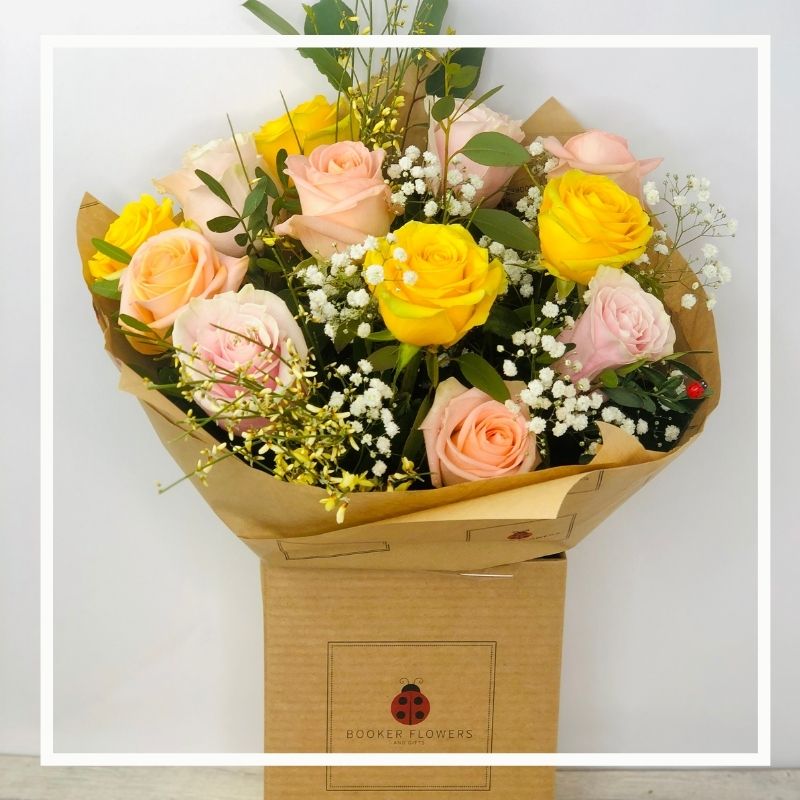 Shop locally for Easter at Booker Flowers and Gifts Liverpool Florist.
We are open 7 days a week and can still offer Easter flower delivery in Liverpool, including Easter Sunday.
Alternatively, we will be open over the Easter period for pre-arranged collections and to browse our beautiful Gisela Graham Easter Gifts and Easter Tree Hanging Decorations which are always very popular.
To pre-order your Easter flowers visit our Easter Collection online or just give us a call: 0151 724 4850
Eco Florist | Looking After The Environment
We have all seen those shocking pictures of plastic filling our oceans. As florists, we feel very close to the Earth and want to protect it.
Right through to our biodegradable oasis, your flowers are packaged in our signature eco wrap, all of our packaging is now eco-friendly, which means that it is easily compostable or can be fully recycled even the flower food sachet is compostable.
Once you have finished enjoying your flowers from us, they will go back into growing more flowers.

We also make sure our Suppliers are looking after the environment.
As such we now stock eco-friendly soy wax-scented candles from Northumbrian Candleworks. As well as being eco-friendly they are also made locally, which means we are also supporting a local business.
These candles come in 16 different scents are make a perfect add-on to your Easter Flowers for just £10 each.
Contactless Deliveries
Last year we introduced "contactless deliveries" which we hope will offer peace of mind and protection for everyone.
We have advised our delivery drivers to follow the below guidelines when making a delivery:
Put the flowers in a suitably safe place.
Ring the doorbell to alert the recipient that the delivery has taken place and then stand back two meters from the door in case the recipient answers.
If the door is not opened put a calling card through the letterbox to advise where the flowers have been left.
If the recipient chooses to open the door stay at least two meters away while communicating with the recipient ensuring the delivery service is truly contact-free.
The recipient will just need to give their name to the delivery driver - rather than having to sign for the delivery
Liverpool Florist Reviews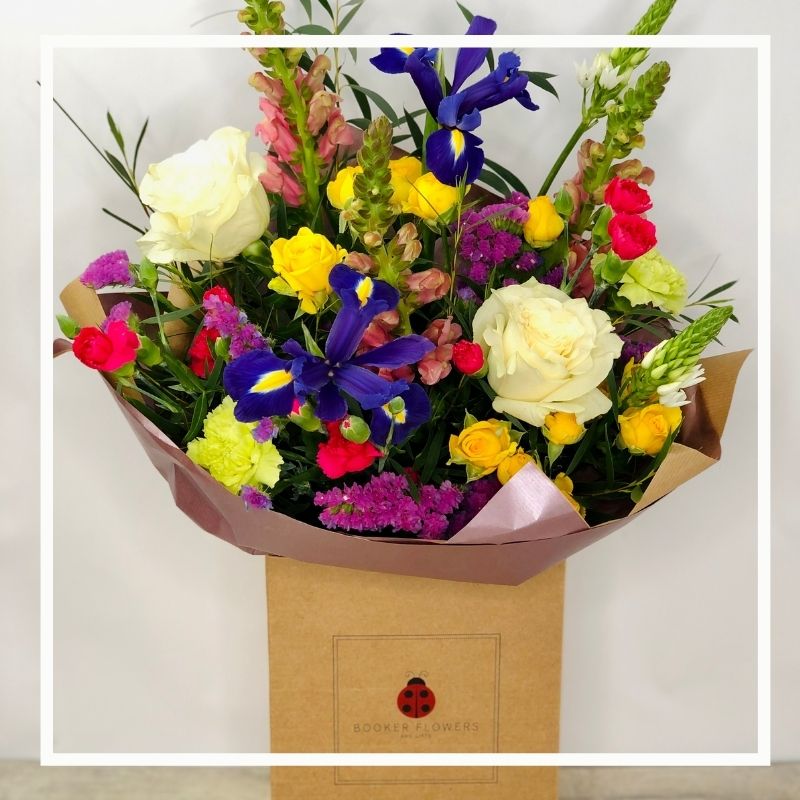 Having been nominated the Best Florist in Liverpool by the independent Three Best Rated for the 5th year running you can feel secure with us. However don't just take our word for it, read some of our customer reviews here:
Google Review David Painter December 2019
We buy our Christmas Tree from here every year and it is always great quality. Great service from all the staff who are always friendly and helpful. We bought a few extra little gifs too which will be great presents. Totally recommend this place (and the cafe next door is nice for a quick bite too). Thanks again.
Google Review Gillian Reynolds October 2020
I sent my wonderful daughter-in-law birthday flowers from you and she was really and truly delighted. So I am too. Very many thanks.
Contact Us
Send beautiful Easter Flowers this year from Booker Flowers and Gifts and be sure to make someone smile. Helping you communicate and send love with more than words.
We hope you love our Easter Flower Collection as much as we do. To order you can either call us today on 0151 724 4850 or order online for Liverpool Flower Delivery 7 days a week. We offer delivery in and around Liverpool from £6 or you can select 'Click and Collect' and come and pick your order up from us on a day that suits you, you won't be disappointed!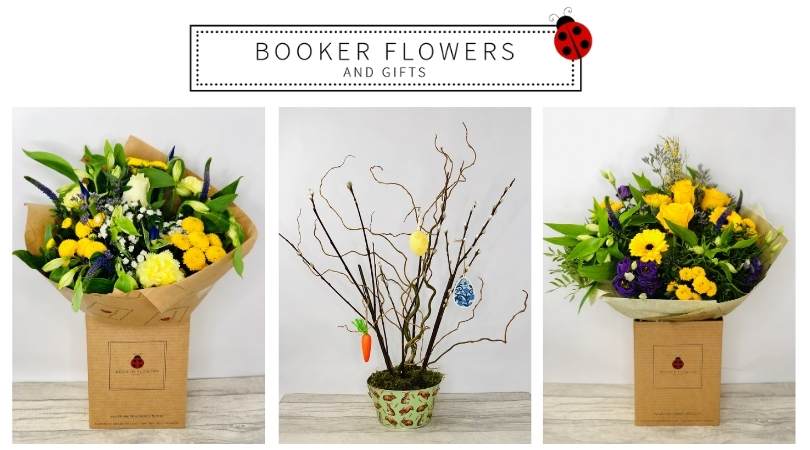 Booker Flowers and Gifts, 7 Booker Avenue, Liverpool, L18 4QY
Tel: 01517244850
Gemma@bookerflowersandgifts.co.uk
https://www.bookerflowersandgifts.co.uk