Easter Flowers for Liverpool Flower Delivery. Easter Weekend 2nd - 4th April 2021
Order your Easter Bouquets from Booker Flowers and Gifts to be guaranteed beautiful flowers delivered in Liverpool. Not only do we have beautiful fresh Spring flowers but we also have Easter Cards, Easter Gift Sets, Chocolate, Wine and an Easter Table Decoration which would look great in the center of your table this Easter.
We also have virtual Easter Classes including How to Make your own Easter Tree and How to Make your Own Easter Door Wreath - which make perfect Easter Gifts or would make a great lockdown activity for yourself and your children.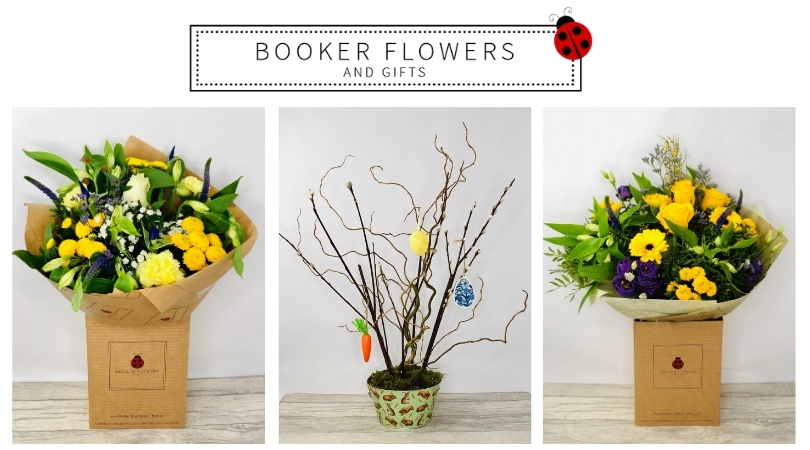 We recognize the increased uncertainty that Coronavirus may be causing and would like to offer our reassurances that the health and wellbeing of our florists; our valued customers; and your loved ones are always our number one priority.
This year is a little different (due to restrictions) our shop doors are currently closed and therefore all Easter Flowers MUST BE pre-ordered for either Delivery or Collection.
Booker Flowers and Gifts are award-winning Liverpool florists with 30 years of experience offering same-day and next-day Liverpool delivery from professional and experienced florists.
Luckily our suppliers have NOT been affected by covid restrictions and all of our fresh Spring flowers will be in stock for Easter and the days thereafter.
We are currently creating beautiful bouquets in an environment that is as clean as possible and we are taking all precautions to keep ourselves and our customers safe.
We are using alcohol-based wipes for all our surfaces; door handles; pens etc and all our staff and delivery drivers have an antibacterial gel to use and we are washing our hands regularly.
Contactless deliveries
We have also introduced "contactless deliveries" which we hope will offer peace of mind and protection for everyone.
We have advised our delivery drivers to follow the below guidance when making a delivery
Put the flowers in a suitably safe place.
Ring the doorbell to alert the recipient that the delivery has taken place and then stand back two metres from the door in case the recipient answers.
If the door is not opened put a calling card through the letterbox to advise where the flowers have been left.
If the recipient chooses to open the door stay at least two metres away while communicating with the recipient ensuring the delivery service is truly contact-free.
The recipient will just need to give their name to the delivery driver - rather than having to sign for the delivery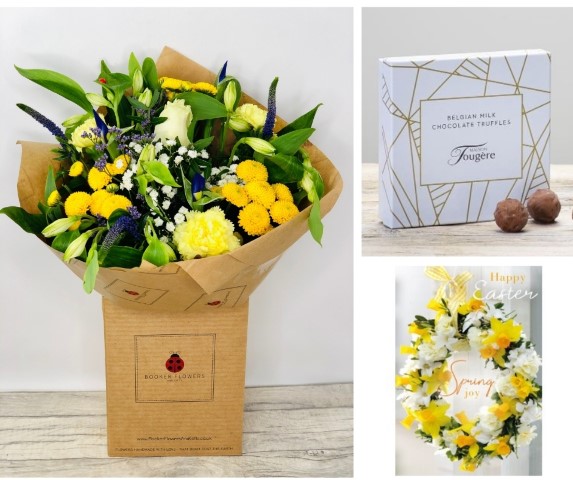 Easter Flower Deliveries
As we approach Easter we want to assure you that we are working hard to deliver your heartfelt wishes. To that end we may have to substitute certain stems (due to shortages) but we can guarantee we will create something seriously special on your behalf using a mix of our very best in-store stems.
To minimise contact all of our delivery drivers will adhere to our new Contactless Deliveries procedure as mentioned above and those who are receiving the flowers will not have to come into close contact with us.
So even if you cant see your loved one this Easter because of the Coronavirus you can still let her know you are thinking of them by letting us deliver flowers (covid safe!)
We have some beautiful Easter Flowers; Gift Sets; Wine; Easter Cards and Chocolates that you can order today and we will deliver them over Easter.
So shop locally for Easter at Booker Flowers and Gifts Liverpool Florist. We are open 7 days a week and can still offer Easter flower delivery in Liverpool.
Alternatively, we will be open over Easter period for pre-arranged collections only. To pre-order visit our Easter Collection online or just give us a call: 0151 724 4850
Our opening hours over Easter are:
Good Friday 2nd April 9am - 5.30pm
Saturday 3rd April 9am - 5.30pm
Easter Sunday 4th April 10am - 4pm
Bank Holiday Monday 5th April - CLOSED