The Ultimate North West Flower Arranging Hen Party Experience
Are you looking for something different for your hen party (or special occasion) - then how about coming to Booker Flowers and Gifts in Liverpool, Merseyside, for an unforgettable celebration?
Look no further than our Hen Party Flower Arranging Class. We're here to take your pre-wedding festivities to the next level, right here in the vibrant heart of the North West.
Join us for a truly unique and memorable experience that will leave you with stunning floral creations and beautiful memories that last a lifetime.
Our Hen Party Flower Arranging Class is here to create unforgettable memories and help you tap into your inner creativity. You will first watch a professional Florist demonstrate how to make a flower crown (or similar arrangement) before trying your hand at it whilst enjoying a glass of fizz and some nibbles.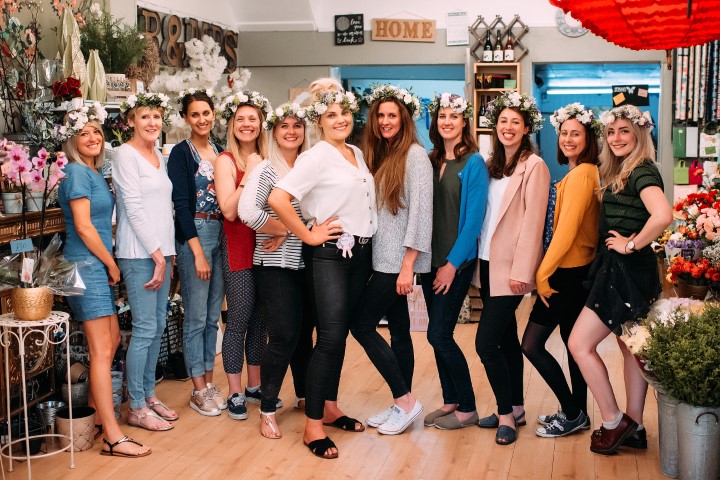 The Beauty of Liverpool
Parties are held at our Liverpool flower shop on Booker Avenue, however private parties at other Liverpool locations can also be arranged.
Prices are £50 each (for 2 hours of Floristry) and all flowers and materials needed to make your own Flower Crown/flower arrangement. A minimum of 10 people is needed per class.
If you would prefer to be in the city centre of Liverpool we do have venues we work with to form a package for your Hen Party where you can have your food and drinks in the same place as the class.
Alternatively, there's plenty of nightlife, meaning you could arrange a night out in Liverpool after an afternoon of flower arranging.
For further information or to book a Liverpool Experience Like No Other call 01517244850 or email: Gemma@bookerflowersandgifts.co.uk
Hands-On Creativity
Ever wanted to try your hand at flower arranging? Now's your chance! Our experienced florists will guide you step by step, helping you create stunning floral arrangements that you can proudly showcase. It's an opportunity to get hands-on with a creative activity that's both rewarding and fun.
Choose from making a Flower Crown (which you can wear with pride for the rest of the day!) or you can learn how to create your own hand-tied bouquets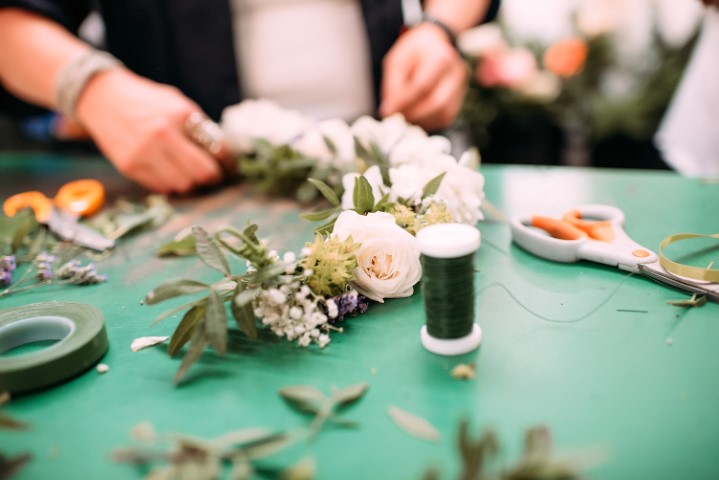 Expert Guidance from a Liverpool Florist
At the heart of our flower arranging class is the expertise of our skilled florists. We're not just any florists; we're proud to be a part of the Liverpool community, serving the North West with our floral creations for years.
Don't worry if you're not a seasoned florist. Our classes are designed for all skill levels, from beginners to flower enthusiasts. Our professional florists will be right there to provide expert guidance, ensuring that everyone leaves with a masterpiece they're proud of.
Unlock your creative potential with a Liverpool Florist on a day that suits you and your friends – give us on 01517244850 or email us with your specifications: Gemma@bookerflowersandgifts.co.uk
The Personalised Touch
We understand the importance of a wedding's theme and colour scheme. That's why our flower arranging class can be personalized to match the bride's vision for the big day.
Create flower crowns or bouquets to match the wedding colour pallet to give the bride a sneak peek into her dream wedding décor or how about capturing the spirit of Liverpool? Whatever your theme or ideas we can work with you to create a memorable Hen Party.
Take-Home Your Masterpieces
The best part? You get to take your creations home! Imagine the joy of having a beautiful floral arrangement, a memento of the hen party, adorning your living space.
Every time you look at it, you'll be reminded of the wonderful time you had with friends.
Choose from a Flower Crown that you will be able to wear throughout the day, to celebrate the rest of the Hen Party or create a Handtied Bouquet in a box with water that you can either keep or gift to someone else.
Reserve your spot now and take home your floral masterpieces – give us on 01517244850 or email us: Gemma@bookerflowersandgifts.co.uk

Relaxing and Therapeutic Experience in the North West
Wedding planning can be hectic, but our flower arranging class offers a therapeutic escape. Working with flowers has a calming effect, allowing you to unwind amidst the excitement of the wedding preparations.
It's a chance to relax, enjoy the company of your friends, and engage in an activity that's soothing for the soul. It's the perfect way to ease any pre-wedding jitters.
Ideal for All Ages
Hen parties often include a diverse group of friends and family members. Our flower arranging class is suitable for participants of all ages, making it a fantastic choice for multi-generational groups. It's a wonderful opportunity for everyone to come together and celebrate the bride's big day
Contact us to reserve your spot for a truly inclusive North West Hen Party at Booker Flowers call 01517244850 or email us: Gemma@bookerflowersandgifts.co.uk
Hen Party Photo Opportunities
In the age of social media, capturing memorable moments is a must. Our flower crowns make for stunning photo props. Imagine the beauty of your creations showcased against the backdrop of Liverpool's iconic landmarks. These snapshots will serve as lasting memories, reminding you of the laughter and joy shared during the class.
Bridal Party Bonding
The bridal party and close friends often come from different parts of the bride's life. Our flower arranging class provides an excellent platform for everyone to get to know each other better and strengthen their relationships before the big day. It's an opportunity to forge bonds that go beyond the wedding and extend into vibrant Liverpool.
Bring your Bridal Party closer together – reserve your place by calling 01517244850 or email us: Gemma@bookerflowersandgifts.co.uk
Practical Skills for the North West and Beyond
Learning the art of flower arranging isn't just for the hen party. The skills you acquire can be practical beyond this special event. Use your newfound talents to create DIY arrangements, or even create something as a thoughtful gift for loved ones.
Ready to elevate your hen party in Liverpool, Merseyside, to a whole new level? Our Hen Party Flower Arranging Class is the perfect choice. Create, bond, and celebrate with us as you prepare for the bride's journey into married life. Don't miss out on this amazing opportunity to experience the North West's floral beauty at Booker Flowers.
Book your Hen Party Flower Arranging Class Now!! Just drop us an email: Gemma@bookerflowersandgifts.co.uk: or call us on 01517244850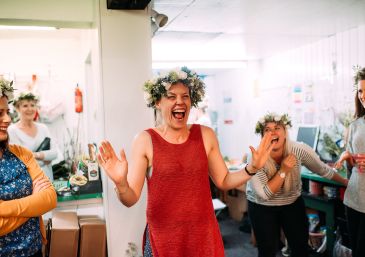 Hen Party 5-Star Customer Review
We have received this lovely 5 Star review online from Laura Rowe:
"We had a flower crown class for my sisters hen party - Fleur was a fantastic teacher and guided us all through the session. Resulting in 15 very pleased with themselves hens! We all looked beautiful and have taken away a new skill. I can't rate this service highly enough xx"
Booker Flowers and Gifts,
7 Booker Avenue, Liverpool, L18 4QY
Tel: 01517244850
Email: Gemma@bookerflowersandgifts.co.uk
Website: bookerflowersandgifts.co.uk