Jubilee Winner at Booker Flowers & Gifts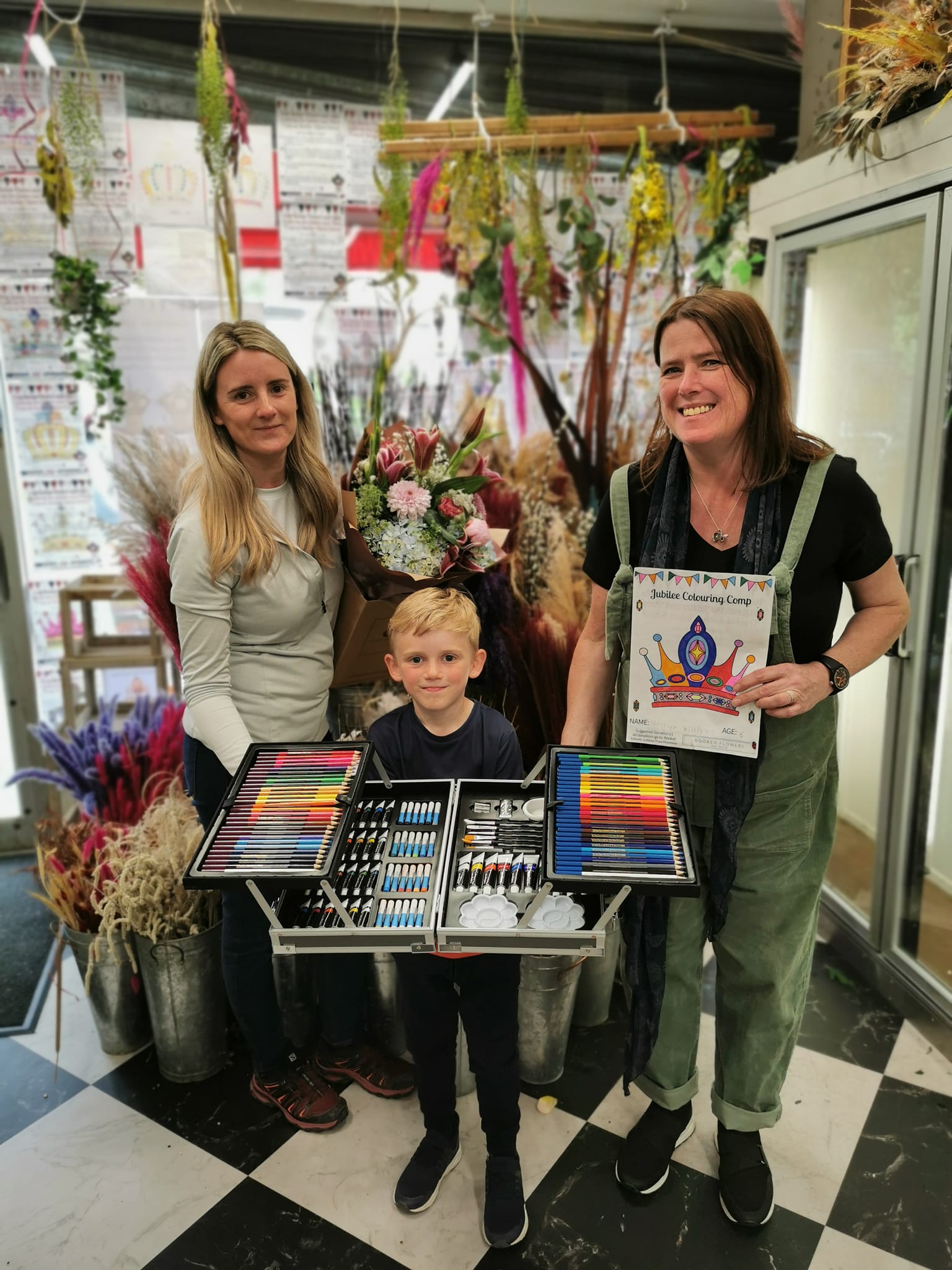 Massive thank you to everyone who entered our Jubilee colouring comp. All of the wonderful Jubilee Crowns we received were displayed in our shop window and they all looked amazing. Many people stopped to view all the artwork from the local children as it was very eye-catching.
Plus we raised a fantastic £130 - which we matched, so Booker Avenue School received £260 in trees and shrubs for their Jubilee Tree Planting event.
All of the Jubilee Crowns we received were amazing, but unfortunately, there could only be one winner. So Congratulations to Matthew Williams (from Booker Avenue Infants) who was chosen at random in our Colouring Comp. His amazing Crown won him an art set and a bouquet of fresh flowers from Booker Flowers, that he kindly gave to his mum
Thanks again to everyone who got involved we had a great Jubilee week and hope you all did too.
Celebrating the Jubilee with Booker Flowers & Gifts
Firstly we will be decorating our Shop Window in red, white and blue and would like local children to help. To this end, we are holding a Crown Colouring Competition and are inviting children to come into Booker Flowers and Gifts, Flower Shop on Booker Avenue to collect their Crown Template (or make their own).
Once they have coloured a Crown, they need to drop it off by 6th June, so we can display them in the shop window.
The best Crown will get selected and they will WIN a beautiful bouquet from our new Summer Collection together with an art set.
We are asking for a suggested donation of £1 to enter the competition. 100% of the money from the colouring competition will go to Booker Infants Jubilee Tree Planting.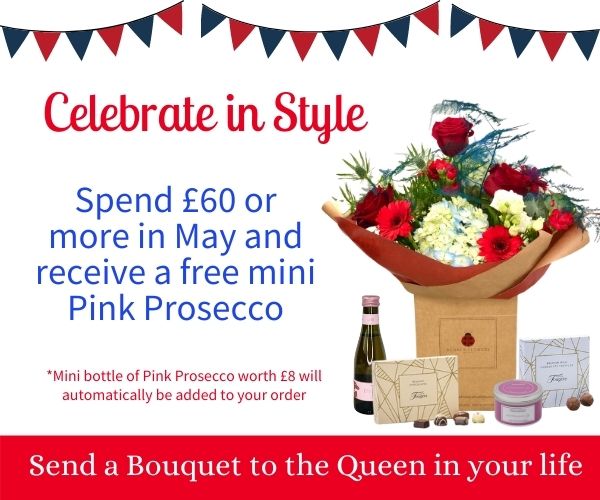 Also in May, we are celebrating the Jubilee by giving all customers a free bottle of mini pink prosecco (worth £8) with every order over £60.
So Treat the Queen in your life to a beautiful bouquet worth £60 or more and we will automatically add a mini bottle of pink prosecco to your order.
We have lots of beautiful bouquets to choose from as our new Summer Collection has just been launched and which includes Summer favorites such as Peonies, Alliums, Cornflowers and more.
No special code is needed, just spend £60 or more on your Bouquet and you will free a mini bottle of pink prosecco. (See Terms and Conditions below for further information)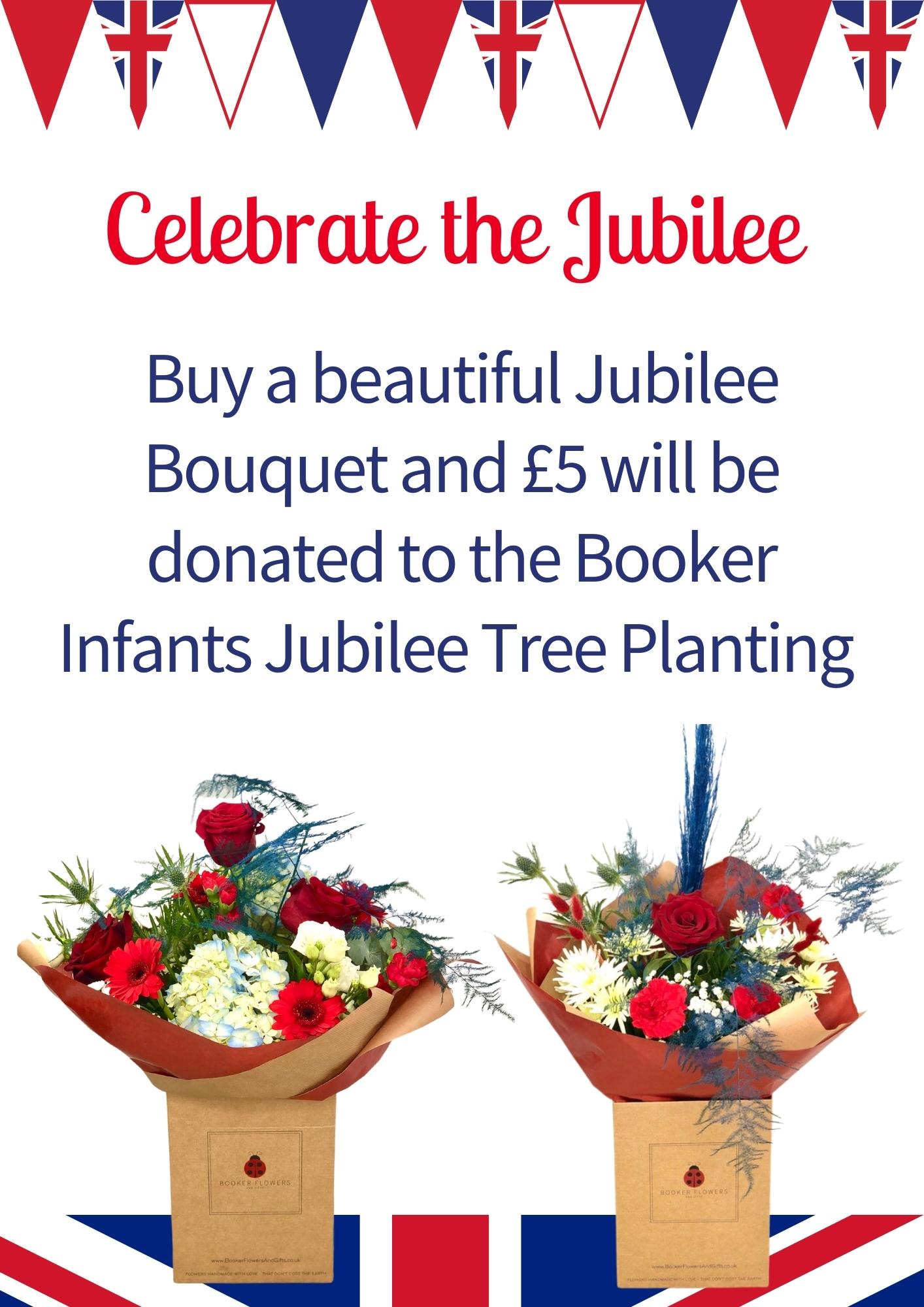 As well as holding the Jubilee coloring competition, we also have two Jubliee Bouquets which we are selling and will donate £5 from each bouquet sold to Booker Infants Tree Planting.
You can choose from Queen's Jubilee or a Jubilee Bouquet - both are available for collection or Liverpool delivery.
The Jubilee bouquets are from our new Summer Collection and are suitable for any occasion. Purchase the Queen's Jubilee and you will also take advantage of the FREE mini pink prosecco special offer.
We are open 7 days a week and orders can be made over the phone or on our Website.
Booker Flowers and Gifts, 7 Booker Avenue, Liverpool, L18 4QY
01517244850 Gemma@bookerflowersandgifts.co.uk
Terms & Conditions of Special Offer: Free mini pink prosecco (worth £8) is only valid on orders for collection or delivery until 31st May. £60 total value must be spent on flowers or a combination of Flowers and Gifts. Our delivery fee is not included in the total value. Offer only valid for Liverpool Flower Delivery. We cannot provide this special offer to customers via Interflora. No code is needed if a customer spends £60 or more they will automatically receive their miniature bottle of pink prosecco.