Virtual Autumn Flower School Class (2) - Harvest Festival Tray Arrangement
When - Collect your DIY kit (or have it delivered) on 28th October
Where - The comfort of your own home
Price - £35 which includes you collecting your DIY kit OR £40 which includes us delivering your DIY kit to you
We are excited to launch our new Virtual Flower School Classes, which includes all flowers and materials in a DIY Kit. So if you can't attend an actual class you can take part in the comfort of your own home by following a professional step by step video.
Spend a couple of hours with us learning the techniques and methods needed to make a low Autumnal tray arrangement.
Perfect for anyone who wants to make a professional arrangement, suitable for beginners and more experienced flower fans.
Throughout the virtual class, we will show you step-by-step how to put together a beautiful arrangement and offer advice, and guidance on how to get the most from it.
The only things you will need are; space to work from, some scissors and a device such as a computer/laptop/tablet or smartphone to watch our virtual online class.
You could even host your own flower arranging party at home with your own family / social bubble. Just purchase a virtual ticket for each person and then you can host your own event.
The virtual ticket is £35 each and includes a DIY Kit with fresh flowers and materials needed to create an Autumnal Harvest Festival Tray Arrangement. The kit can be collected from Booker Flowers and Gifts, on Booker Avenue on 28th October. *Please note the flowers will stay fresh for a few days so you can watch the virtual class anytime before the end of October.
However, if you are unable to collect your DIY kit from our Florist shop on Booker Avenue, you can pay an extra £5 for delivery and we will deliver the kit to you at home. However please note, we will only be able to deliver to a Liverpool address on 28th October.
Once you have purchased a virtual ticket you will receive a special code to access the professional video online (it will not be shared on YouTube to the general public) and it has been professionally edited to show you exactly what you need to do.
Also, you will receive exclusive access to a private Facebook group, so you can share pictures of your arrangement, ask for feedback or help and see other people's designs.
This class is a fun way to learn about flower arranging from a professional Florist in the comfort of your own home and you can watch the video again and again. You could even arrange a Flower Arranging Night at home with your friends. (restrictions allowing)
Payment in full is needed at the time of booking (non-refundable) - DIY Kits are limited so book today to avoid disappointment!
Please note you will have to pay £5 delivery cost if you want the DIY Kit delivering to you. Alternatively, we will presume you are collecting the DIY Kit from our Shop on 28th October.
Click below to book and pay for the class or call us on tel: 01517244850
Booker Flowers and Gifts Florists are looking forward to teaching you how to make this bespoke flower arrangement with fresh flowers, foliages, gourds and apples.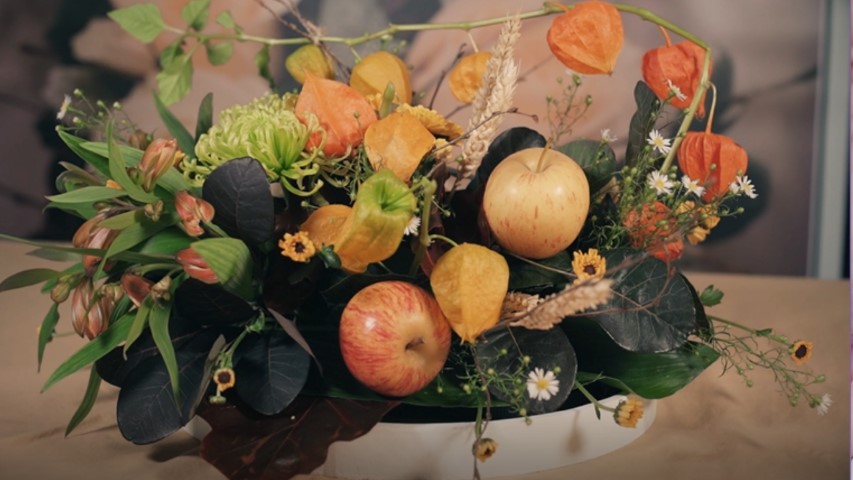 Flower arranging classes with Booker Flowers and Gifts Liverpool are a fun way to learn about flower arranging. Learn the tricks and techniques used by professional florists. During each class, we vary the techniques used so that you will learn about all aspects of floral techniques including; floral foam tips; wired work; glued designs and more. You will also learn about the conditioning of flowers, names and principles of design.
Floristry classes at Booker Flowers and gifts are a fun way to learn the basics of floral design and get tuition from a professional florist.
No previous floristry experience needed, as you will receive professional tuition and all materials needed to make the floral design shown. The flower arranging classes are hands-on and a perfect introduction into floristry with guidance from professional florists.