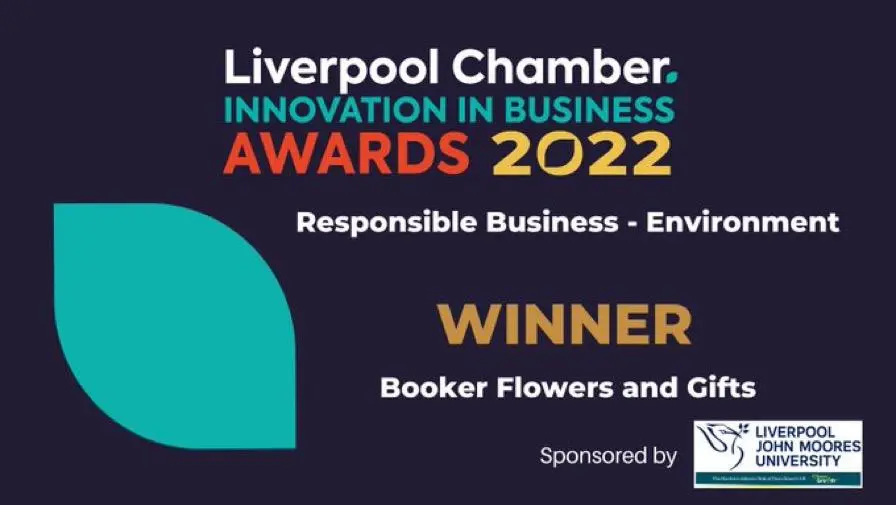 Booker Flowers and Gifts in Mossley Hill, Liverpool are proud to have once again WON the Liverpool Chamber of Commerce Innovation in Business Awards 2022 - Responsible Business Environment Award 2022 sponsored by Liverpool John Moore University.
A recognition of the continued work they are doing to reduce the environmental impact of their business.
They also won the Environmental and Climate award in the Liverpool Chamber Innovation in Business Awards 2021. To have won for a 2nd year recognises the work they are doing from year to year, examining each area of the business to make continued improvements
On receiving the award, owner Gemma Wakerley said:
"We are delighted to have won the Liverpool Chamber of Commerce Responsible Business Environmental Award for a 2nd year. We have been on a journey since 2015 to work in the most sustainable way possible, taking into account environmental and socio-economic factors. I am pleased to see that environmental awards are now common place in the business community awards agenda. This can only serve to increase what businesses are doing to help preserve the world we all live in. At Booker Flowers and Gifts being eco-friendly, community minded and buying responsibly is part of what we do, and to be recognized for this fills us with pride."
The award ceremony, at Liverpool World's Museums new event space, was a celebration of innovation among Liverpool City region firms. With over 500 attendees, the Liverpool Chamber Awards night is one of the highlights of the business calendar and competition is strong in all categories.
Since winning the award in 2021 Booker Flowers and Gifts has continued to introduce measures to reduce their carbon footprint and environmental impact. Such as going paperless and starting to compost green waste.
When asked about what business can do to be greener Gemma said:
"Going green is about making small, easy changes, and building from there. I am delighted that now green issues are on the agenda for government, it is a lot easier to access help and support: This last year I have worked with a Liverpool John Moores University student to help develop a system that has allowed the shop to go paperless whilst also improving productivity and customer service. The student is now able to take this system to market, so this will not only help us, it will help other florists as well, and we are very happy that we have helped in the development of an entrepreneur. We have more plans to carry on this sustainable path, so watch this space! I would encourage other businesses to make the changes they can for the benefit the environment. These all add up, and SMEs together really can make a big impact"
ECO-FRIENDLY LIVERPOOL FLORISTS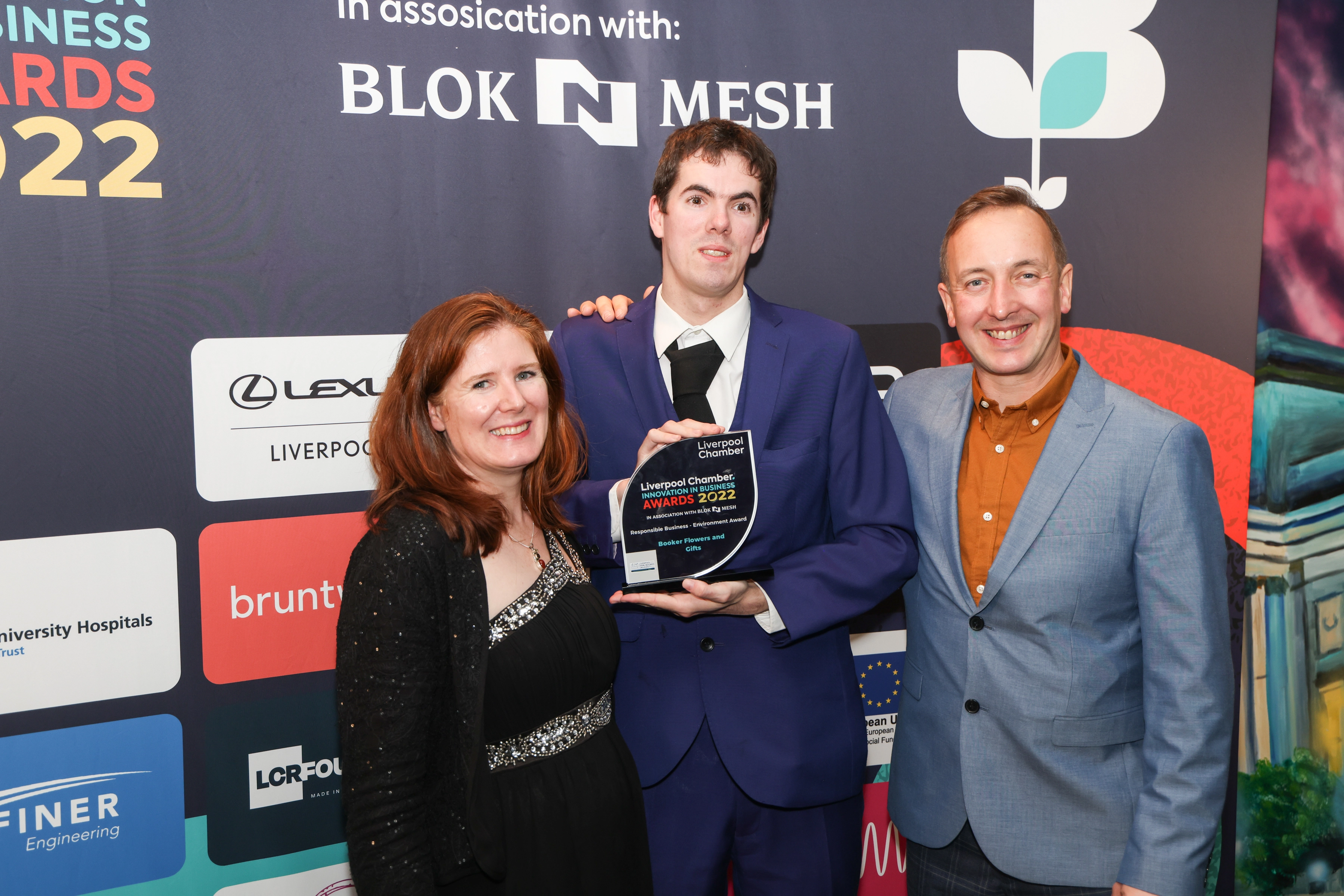 Booker Flowers and Gifts are so happy that they have been recognized for all their hard work. The last few months have been hard for everyone, not just a small business, but they have worked tirelessly to be eco-friendly and create beautiful flowers in Liverpool for every occasion.
Over the last few years, Booker Flowers and Gifts have made changes to what and how they use materials, to become as eco-friendly as possible. From the oasis that they use, to the recycling of green waste, the bio-degradable packaging, and buying from local growers, means they tick all the boxes when it comes to being sustainable.
As Liverpool florists, they feel very close to the Earth, and being eco-friendly is their number one goal, so being recognized for an award in the Environment category has filled them with pride.
They believe their flowers spread happiness, and they feel good knowing their flowers won't have been created at the expense of anyone else in the world.
NET-ZERO FLORISTS LIVERPOOL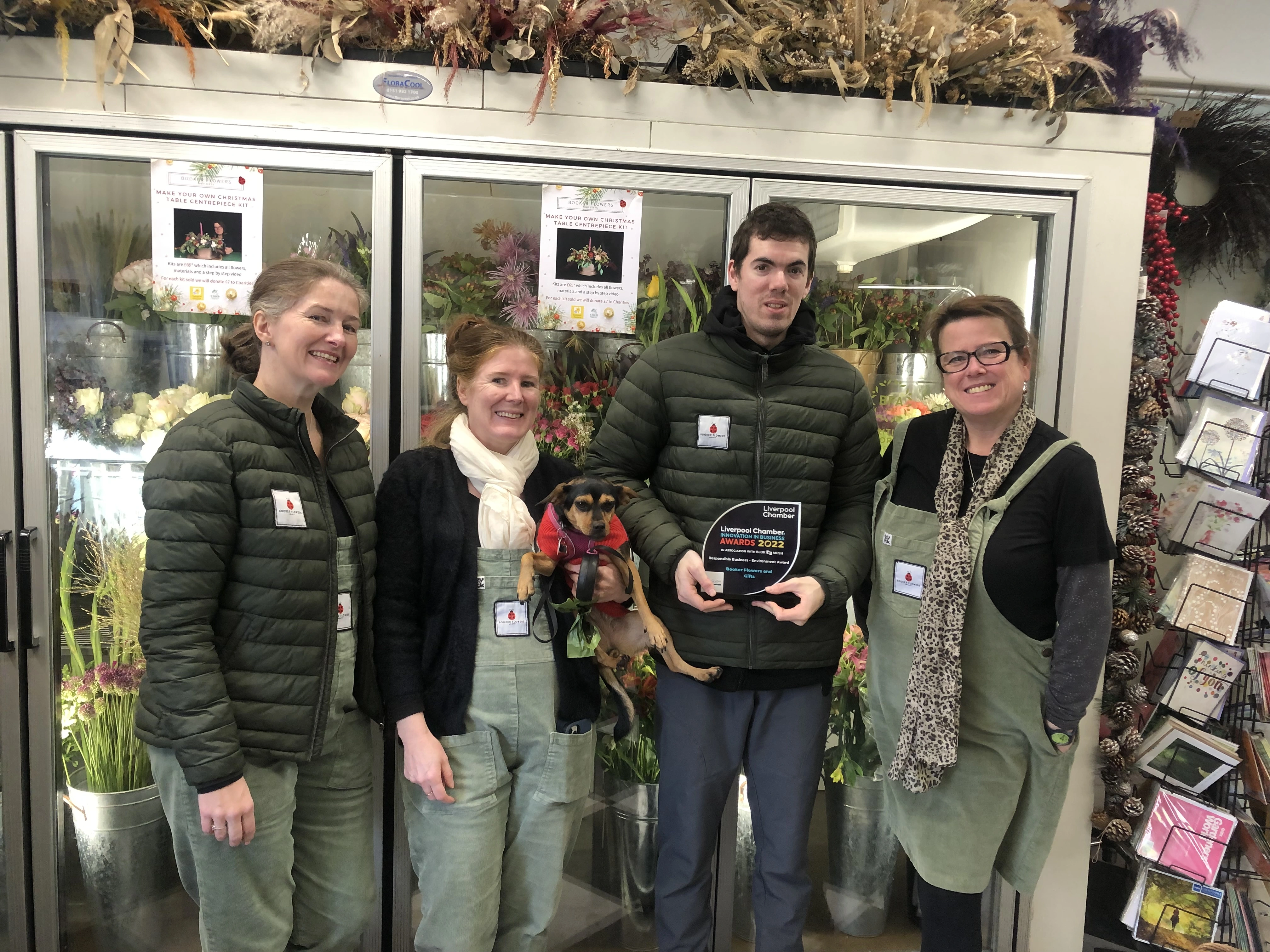 Booker Flowers and Gifts Manager, Gemma, said it had meant the world to her to win again this year, but winning is not the end, it's merely the beginning of their journey.
They will continue to be as eco-friendly as possible, which will include becoming net-zero and reducing their carbon footprint, starting with changing to electric delivery vans in the near future, to reduce their emissions.
Booker Flowers and Gifts would like to thank everyone who voted for them, their customers who have supported them, the sponsors of the award Liverpool John Moores University, and the Liverpool Chamber of Commerce for awarding them with the Responsible Business Environment Award 2022 - for the second year running!
Booker Flowers and Gifts are local Liverpool Florists who strive to offer flower delivery in Liverpool whilst also being kind to the planet and the people along the supply chain that produce them.
BOOKER FLOWERS AND GIFTS LIVERPOOL FLORIST
Booker Flowers and Gifts offer Same-Day Flower Delivery in Liverpool as well as future dates and can organise the delivery for other areas through our network of florists via Interflora.
Having been nominated the Best Florist in Liverpool by the independent Three Best Rated for the 5th year running and winners of the Liverpool Chamber Awards for the second year running, you can feel secure using Booker Flowers and Gifts. So call Gemma and her team today on 0151 724 4850 or order online for Liverpool Delivery 7 days a week.
Booker Flowers and Gifts, 7 Booker Avenue, Liverpool, L18 4QY
01517244850
Gemma@bookerflowersandgifts.co.uk