Funeral Flowers
We have flowers at funerals as a visual expression of our sympathy, grief, love and respect to the deceased. Flowers have long been a prominent way to express sympathy, love, condolence and respect especially after the passing of someone we know.
The meaning of Flowers for a Funeral
Lilies- Lilies are perhaps the most popular flower at funeral services because of their representation of the innocence that has been restored in the soul of the deceased. Any type of white lily is appropriate as they represent purity like this white lily casket spray.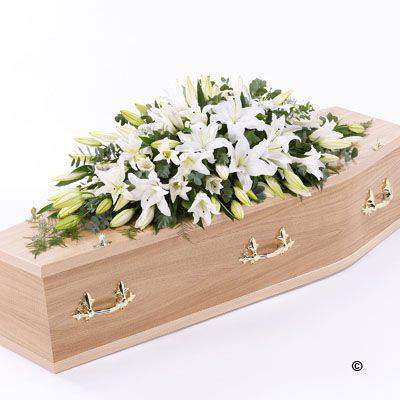 Chrysanthemums - Chrysanthemums are a common feature in flower arrangements like in this popular casket spray at funeral services because white chrysanthemums carry meanings associated with the death of a loved one, such as mourning and grief like this. Besides their symbolism, the white blooms are used in bouquets and arrangements as a welcome, positive and cheerful tribute.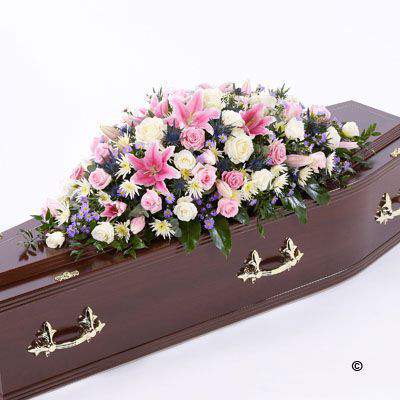 Carnations - When carnations are used in funeral arrangements, they stand for love and admiration, but they are commonly used for their sweet long-lasting fragrance too. Each colour carnation has a different meaning; red symbolises admiration for a loved one that is deceased, pink stands for remembrance of the dead which feature in this bright pink casket spray and white represent untainted love and innocence.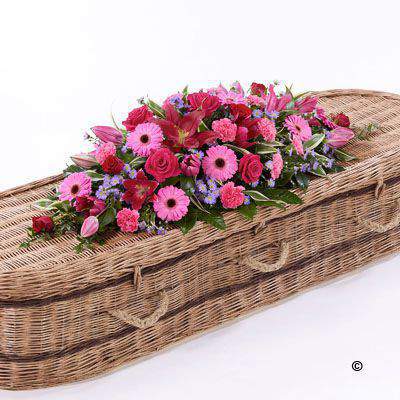 Roses - Just like white lilies, white roses represent purity and innocence, and are a common addition to sympathy and funeral flower arrangements like this white rose and carnation casket spray. Other colours of roses are also used to remember the deceased. Pink roses stand for love, grace and appreciation and are usually given to the bereaved, while dark red roses symbolise grief. Yellow roses signify friendship and are given by friends of the deceased to represent their loyalty.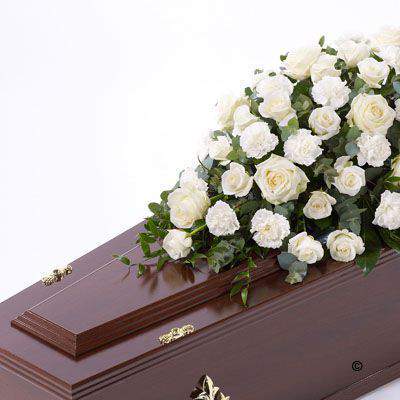 Funeral Flowers Liverpool
We have a large range of Funeral Flowers such as the main funeral tribute which is called a casket spray which is usually from the immediate family.
As well as casket sprays we also offer; funeral wreaths, funeral posy, sprays for funerals as well as Special Tribute Funeral Flowers, letters plus bespoke funeral flowers for you in Liverpool, Merseyside and can organize Funeral flower deliveries for you Nationwide.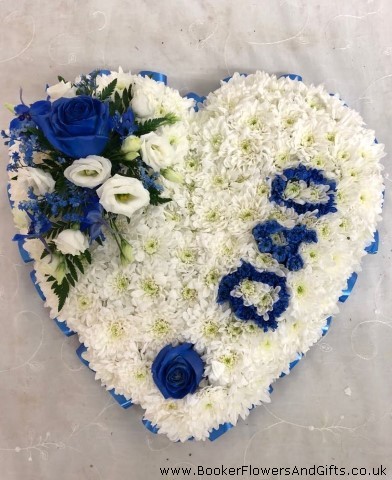 Your Funeral Flowers will be handmade, by our professional florists, and delivered to the Funeral Director or Private House if you prefer. Remember Booker Flowers and Gifts for Funeral Flowers delivered in Liverpool, Merseyside and beyond.
Most Funeral Flowers are arranged in florist foam and or on a frame and usually placed in the hearse or on the casket. We offer floral letters such as Mum, Dad, Nan, Grandad also more bespoke funeral tributes such as Anchors, Open Book Tribute, Photo Frame Tribute, Football Tribute, Gates of Heaven and anything away from the usual.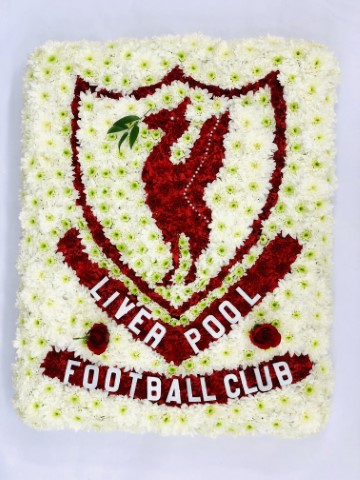 If you have an idea of a special tribute that you don't see here call us for a quote. We offer Flower Delivery in Liverpool. We can provide bespoke Funeral Flowers for you in Liverpool, Merseyside and can organise Funeral flower deliveries for you Nationwide and all our flowers hand-arranged by our Florists are backed by our 7-day freshness guarantee.
Liverpool Funeral Flower Delivery
Funeral Flowers can be provided for you in Liverpool, Merseyside and we can organize Funeral flower deliveries for you nationwide. Funeral Flowers can be delivered to the Funeral directors or a house address. They can not be delivered to the crematorium or the church. Our shop delivers funeral flowers to the following Liverpool postcodes L1 L2 L3 L4 L5 L6 L7 L8 L11 L12 L13 L14 L15 L16 L17 L18 L19 L24 L25 L26 L27 L36 L70 If your order is for an area outside of these we can organise the delivery for you through our network of florists. We will ask them to make as close as possible to the image but because of the difference in stock and sundry items, it may not be exact.
Best Florist in Liverpool
Trust Award-winning Liverpool Florist, Booker Flowers and Gifts, to deliver funeral flowers fitting for the occasion delivered in Liverpool, Merseyside and beyond. Our funeral flowers are handcrafted by our team of professional fully qualified who not only lovingly hand make our designs but hand-deliver them, ensuring all our customers are delighted with their flowers. Booker Flowers and Gifts your local Liverpool Flower shop.