New Winter Collection Out Now | Winter Bouquets and Flower Arrangements Delivered in Liverpool
Get ready to be enchanted by the magic of winter with Booker Flowers and Gifts! With over 30 years of award-winning expertise, we're thrilled to unveil our latest masterpiece - a Winter Collection bursting with seasonal splendor! Brace yourself for a floral journey that will redefine the way you experience winter blooms.
Booker Flowers and Gifts are award-winning Liverpool florists with over 35 years of experience offering same-day and next-day Liverpool flower delivery from professional and experienced florists.
From 1st November their new Winter Collection which has a wide range of beautiful Winter flowers are available for delivery or collection from Booker Avenue, L18.
If you need a little inspiration, then here are the most popular Winter Bouquets to send from Booker Flowers and Gifts: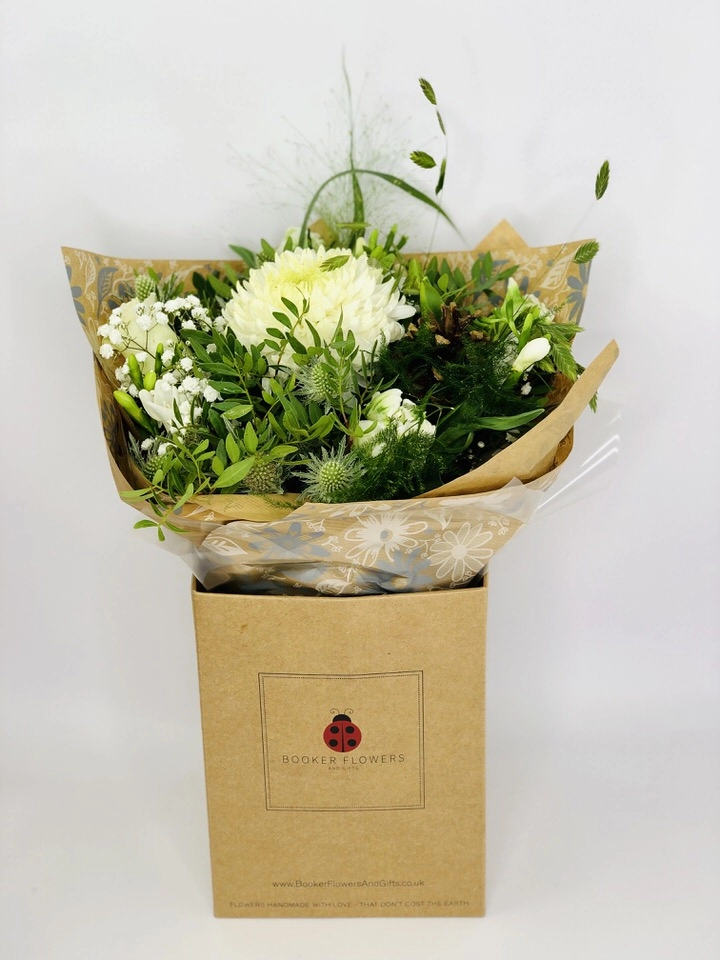 Blooms are a type of Chrysanthemum.
Blooms are very long-lasting which makes them very popular.
They come in most colours and are available all year round however these white blooms are very popular during Winter.
Chrysanthemum Blooms are the flower of the month for November and they symbolize happiness, love, and joy. Making them the perfect gift to send for a Birthday or a special occasion this Winter.
Immerse yourself in the beauty of our "Frosty Morning" Bouquet, featuring enchanting white bloom, white eryngium, white tulips, and white freesia. It's not just a bouquet; it's a celebration of joy, love, and happiness! Available for Liverpool Flower Delivery seven days a week at just £40.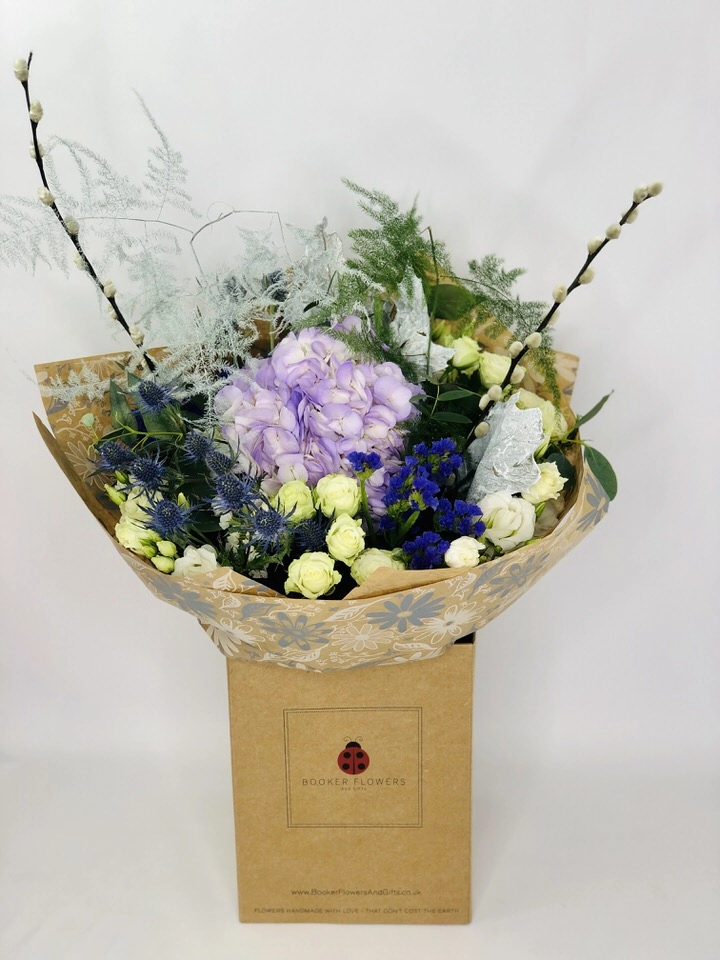 Step onto a Polar Express with this Winter hand-tied bouquet, starring the graceful Hydrangea. Hydrangeas are beautiful and versatile flowering plants known for their large, lush blooms and vibrant colours.
These flowers typically bloom during the late spring, summer, and early fall, making them a fantastic addition to our Winter Collection, as they can add a touch of lushness and elegance to winter arrangements.
While hydrangeas are often associated with warmer seasons, their durability and availability in different colors make them an excellent choice for winter bouquets, providing a unique and unexpected element to your winter floral designs.
This Winter Polar Express Handtied featuring a lilac Hydrangea for Liverpool flower delivery 7 days a week.
These classic flowers are always popular, likely due to their feminine appearance.
This Let It Snow Bouquet containing white Gerberas is a lovely choice for any occasion throughout the winter months.
Elevate your winter occasions with the purity of white Gerberas in our Let It Snow Bouquet of Flowers. It's not just a bouquet; it's a statement of elegance and innocence. Order now for guaranteed freshness and let the winter vibes blossom!
We guarantee 7 days of freshness with all our flowers.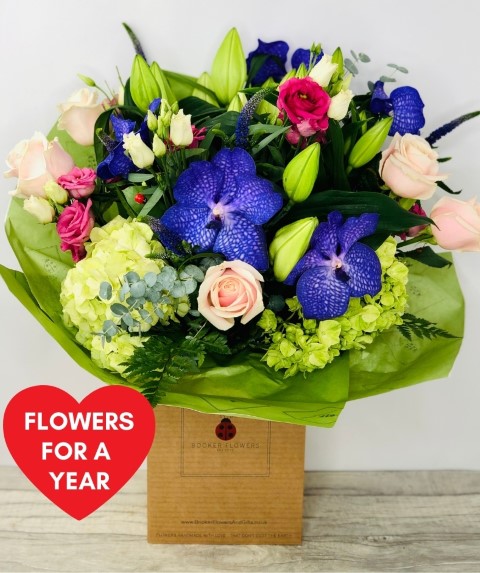 For an extravagant winter gift, indulge your loved ones with Flowers for a Year. A monthly delivery of seasonal bouquets, each worth £50, promises to impress and delight all year long. Because the joy of flowers should never be limited to just one season! A beautiful bouquet of seasonal flowers worth £50 will be delivered directly to them once a month which will impress your loved one all year long.
Our seasonal bouquets are expertly arranged using only the best and freshest flowers to reflect the seasons and will not disappoint.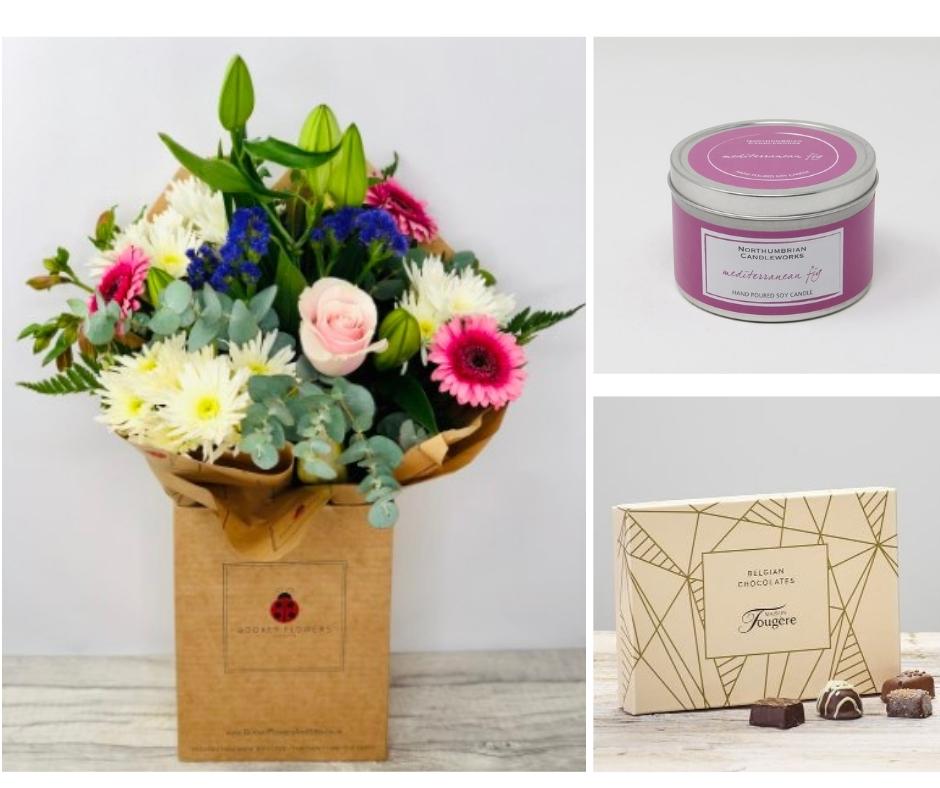 Surprise your loved ones with extra luxury! Our Gift Sets, featuring flowers, chocolates, champagne, scented candles, and more, are crafted to make every occasion special.
We particularly like our Happy Birthday Gift Set which not only includes a beautiful seasonal bouquet but a box of chocolates and a scented soy candle in a stylish tin.
We also offer a large range of finishing touches, such as Wines, Champagne, locally-crafted Liverpool Gin, Vases, Scented Candles, and Chocolates that can be delivered or collected with your flowers. To see the full range, see our extras section
Eco Florist | Looking After The Environment
We have all seen those shocking pictures of plastic filling our oceans. As florists, we feel very close to the Earth and want to protect it.
Join us in our commitment to the environment. From biodegradable oasis to eco-friendly packaging, every detail is designed to protect our planet. Your flowers, once enjoyed, contribute to growing more beautiful blooms!
Enhance your winter experience with our eco-friendly soy wax scented candles from Northumbrian Candleworks. With 16 captivating scents, these candles are the perfect complement to your Winter Flowers for just £10 each.
Contactless Deliveries
Last year we introduced "contactless deliveries" which we hope will offer peace of mind and protection for everyone.
We have advised our delivery drivers to follow the below guidelines when making a delivery:
Put the flowers in a suitably safe place.
Ring the doorbell to alert the recipient that the delivery has taken place and then stand back two meters from the door in case the recipient answers.
If the door is not opened put a calling card through the letterbox to advise where the flowers have been left.
If the recipient chooses to open the door stay at least two meters away while communicating with the recipient ensuring the delivery service is truly contact-free.
The recipient will just need to give their name to the delivery driver - rather than having to sign for the delivery
Liverpool Florist Reviews
Google Review David Painter December 2019
We buy our Christmas Tree from here every year and it is always great quality. Great service from all the staff who are always friendly and helpful. We bought a few extra little gifs too which will be great presents. Totally recommend this place (and the cafe next door is nice for a quick bite too). Thanks again.
Google Review Gillian Reynolds October 2020
I sent my wonderful daughter-in-law birthday flowers from you and she was really and truly delighted. So I am too. Very many thanks.
Contact Us
Having been nominated the Best Florist in Liverpool by the independent Three Best Rated for the 5th year running you can feel secure with us. So send beautiful Winter Flowers this year from Booker Flowers and Gifts and be sure to make someone smile. Helping you communicate and send love with more than words.
Order our Winter Flower Collection today by calling 0151 724 4850 or conveniently order online for Liverpool Flower Delivery seven days a week. With delivery starting from just £6, or choose 'Click and Collect' to pick up your order on your terms.
Feel secure with Booker Flowers and Gifts, named the Best Florist in Liverpool by the independent Three Best Rated for the 5th year running. Let's spread love this winter with flowers that go beyond words!
Booker Flowers and Gifts, 7 Booker Avenue, Liverpool, L18 4QY
01517244850
Gemma@bookerflowersandgifts.co.uk