Valentines Day Flowers for Liverpool Flower Delivery - Order now to receive a FREE box of chocolates (with orders over £70) and a voucher for £5 OFF your next order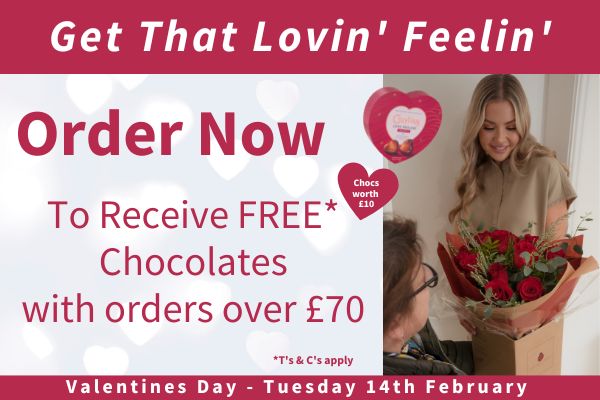 Valentine's Day is a holiday that is traditionally associated with the exchange of gifts, such as flowers. Some popular Valentine's Day flowers include red roses, which symbolize love and passion, lilies, which symbolize purity and devotion, carnations, which symbolize love and fascination and tulips which symbolize true love.
Other popular Valentine's Gifts include chocolates, teddy bears, prosecco or champagne - all of which we can send to your loved one this Valentine's Day.
Treat someone special this Valentine's Day and let Booker Flowers and Gifts kick-start your week by sending your loved one a beautiful bouquet of romantic fresh flowers.
Order your Valentine's Day Flowers from Booker Flowers and Gifts to be guaranteed beautiful flowers delivered in Liverpool to your loved one - the perfect way to say "I love you"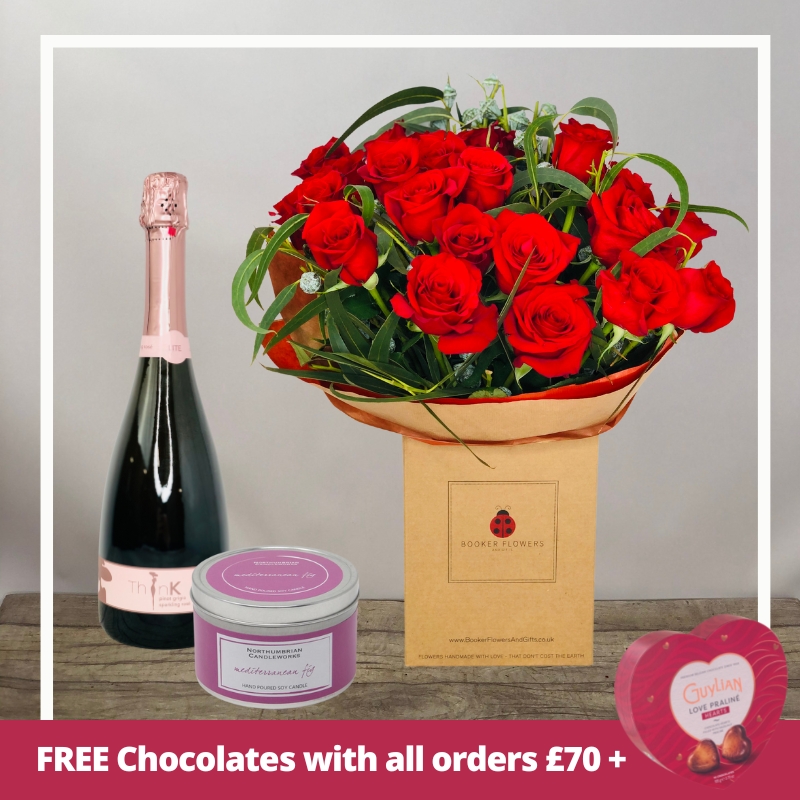 Booker Flowers and Gifts are award-winning Liverpool florists with over 35 years of experience offering same-day and next-day Liverpool delivery from professional and experienced florists.
Plus spend over £70 on Valentine's Flowers and receive a FREE box of chocolates plus a £5 OFF Voucher to redeem against a future flower order. (Terms and Conditions apply - see below)
This Liverpool Florist Valentine's Day Collection has a wide range of beautiful flowers from a single red rose, dozen red roses, two dozen red roses or for the more extravagant gift you can order Flowers for a Year all available for Liverpool flower delivery on Valentine's Day.
Although red roses are the most popular Valentine's Day flowers, other flowers such as lilies, carnations, alstroemeria and gerberas are also very romantic flowers for sending on Valentine's Day.
So if you need a little Valentine's Day inspiration here are the most popular Bouquets to send on Valentine's Day from Booker Flowers and Gifts: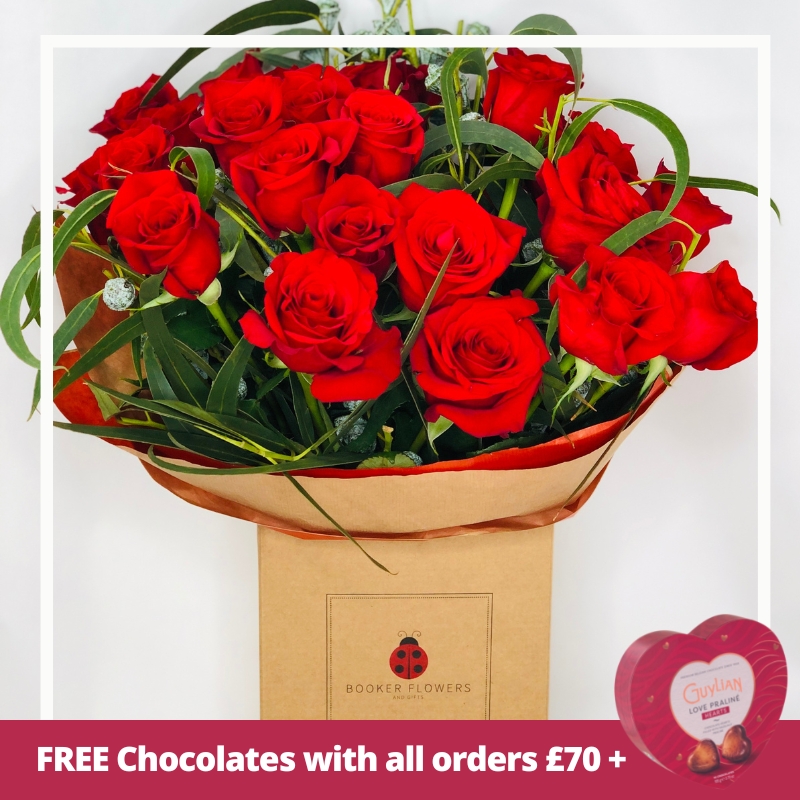 Red Roses symbolise love, admiration, and devotion, so no surprise that the most common Valentine's Day Bouquet is a romantic bouquet of red roses. However, the number of red roses you send has special romantic meanings associated with them. 12 Red Roses are the most popular of all which conveys "Be mine" and "I love you".
This Valentines Day you can order a Dramatic Dozen Bouquet of Red Roses for £80, or a Dramatic Eighteen Bouquet of Red Roses for £115.
However, 24 red roses meaning' symbolism is meant to say "I think of you 24 hours a day. Pre-order your romantic red rose bouquets for Liverpool Flower Deliver online from Booker Flowers and Gifts and you won't be disappointed.
Red roses are considered romantic because they have been associated with love and passion for centuries. The color red is often associated with strong emotions such as love and desire, and the rose is a traditional symbol of love and beauty. Additionally, the rose's thorns are often seen as a symbol of the difficulties and challenges that can come with love. All of these connotations have contributed to the rose, particularly the red rose, being seen as a romantic symbol.
However there is more than one way to say 'I Love You' than with a dozen red roses, so here are some other beautiful Valentine's Bouquets: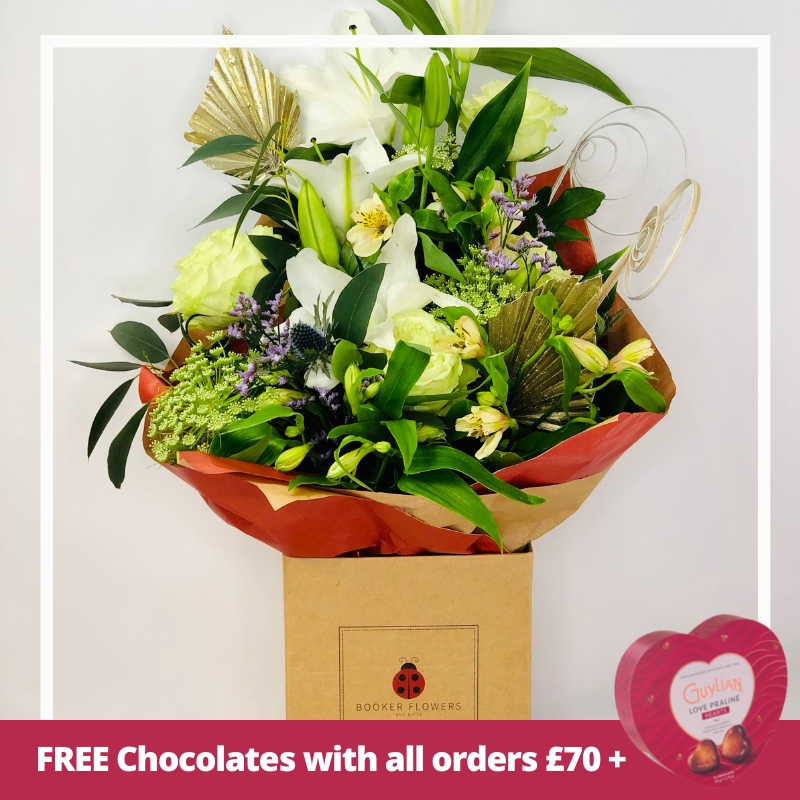 Lilies are an ideal flower for an elegant and dramatic choice that are sure to please a person with sophisticated tastes.
Not only do Lilies have a breath-taking fragrance but they also symbolise love, purity and femininity which is the perfect choice for Valentine's Day.
Order your white lily and rose hand-tied bouquet for delivery on the 14th of February to your Valentine.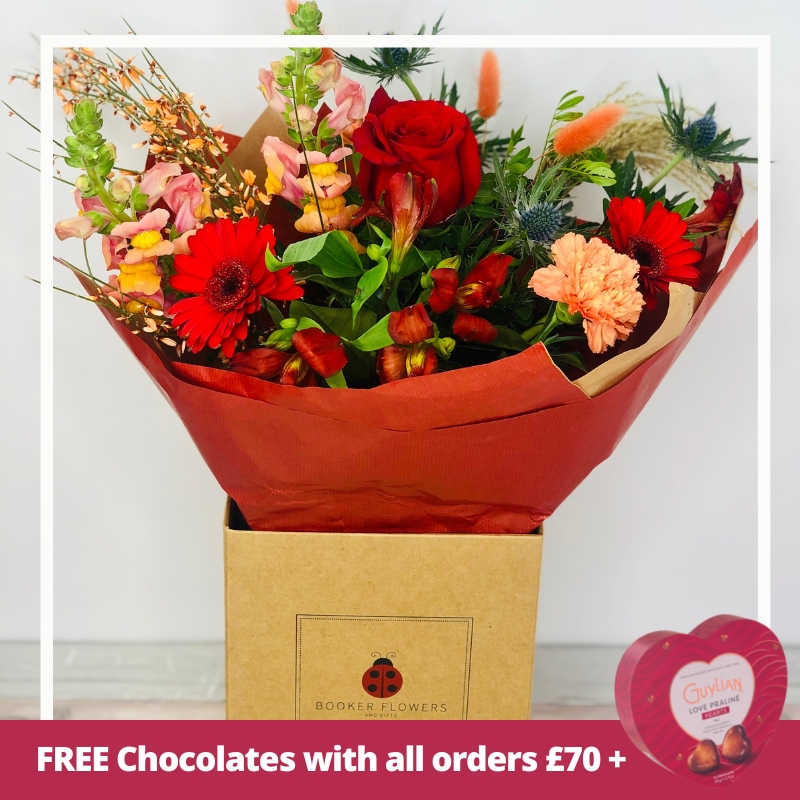 These classic flowers are right behind roses in popularity, likely due to their feminine appearance and long-lasting vase life.
Carnations also symbolise fascination, making them a great pick for a relationship in its early stages.
Order this Valentines Crush Handtied Bouquet containing Carnations for Liverpool flower delivery on Valentine's Day.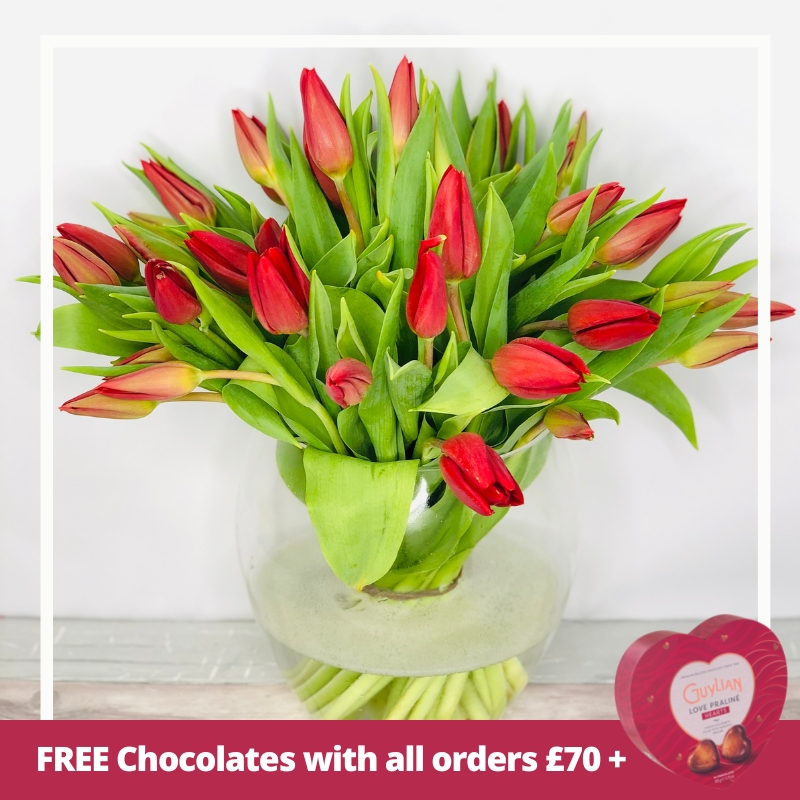 Popular Spring flowers Tulips are a lovely choice for Valentine's Day.
Not only do tulips feature delicate, eye-catching petals, but they also represent perfect and deep love, so they are a perfect way to express your undying love to that special someone.
Red tulips in particular are strongly associated with True Love so this Terrific Tulip Vase featuring 40 long red tulips is a beautiful choice to send to your Valentine.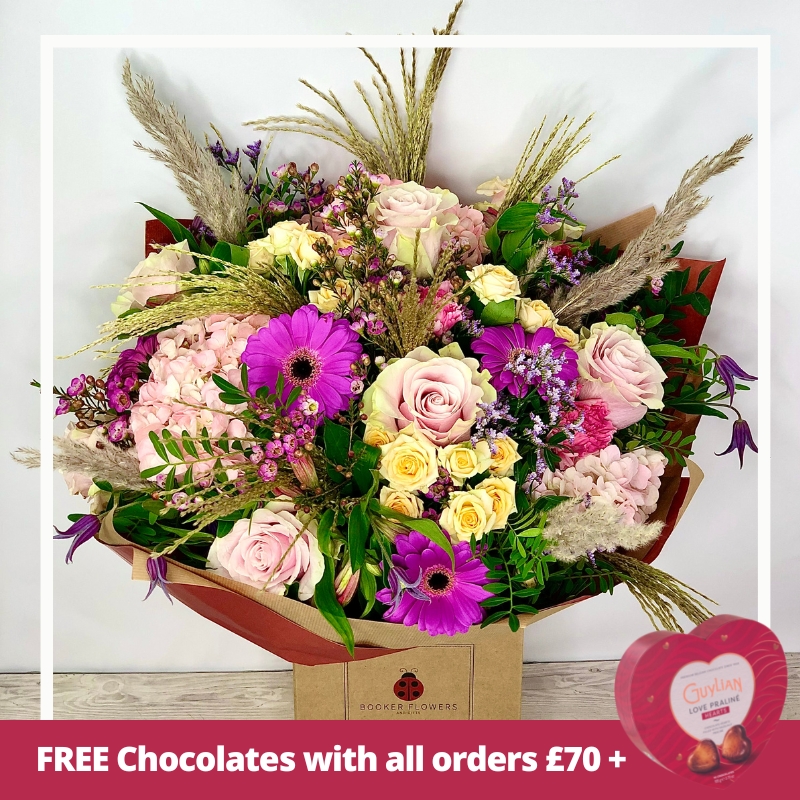 For the more extravagant gift, order Flowers for a Year. A beautiful bouquet of seasonal flowers worth £50 will be delivered directly to them once a month which will impress your Valentine all year long.
Our seasonal bouquets are expertly arranged using only the best and freshest flowers to reflect the seasons and will not disappoint. Plus the first bouquet will be delivered on Valentines Day with a box of chocolates and a voucher explaining they will get fresh flowers delivered from us each month.
As well as these Valentine's favourites, we also offer Valentine's Day Gift Sets, Wine, Champagne, Chocolates and scented candles.
Whatever you choose, be sure to choose Booker Flowers and Gifts to deliver your Liverpool Valentines Flowers and Gifts and your loved one will not be disappointed in our quality fresh flowers which are guaranteed freshness for 7 days.
So why do we celebrate Valentine's Day on 14th February?
Valentine's Day or St Valentine's Day is celebrated every year on 14th February when people show their affection for another person by sending cards, flowers or chocolates.
Valentine's Day has been celebrated since 469 and it is thought that St Valentine was a priest from Rome. The Emperor at the time Claudius II had banned marriage because he thought married men were bad soldiers, however Valentine felt this was unfair, so he broke the rules and arranged marriages in secret. When Claudius found out, Valentine was thrown in jail and sentenced to death. There Valentine fell in love with the jailer's daughter and when he was taken to be killed on 14 February he sent her a love letter signed from your Valentine.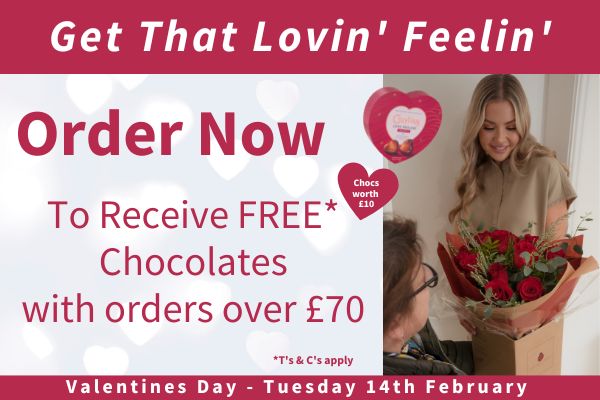 Why send Flowers on Valentine's Day?
For centuries, people have been giving flowers to the object of their affection on Valentine's Day. Tradition began when Charles II introduced the Pearson language of flowers to Europe in the 1700's. This has long continued throughout the years as a means for expressing love and appreciation.
Sending flowers on Valentine's Day is a traditional way to express love and affection. Flowers have long been associated with love and romance, and the act of giving someone flowers is a way to show them that they are special and valued. Additionally, flowers can be a way to express emotions that are difficult to put into words. Valentine's Day is a holiday specifically dedicated to celebrating love and romance, making it an especially appropriate time to send flowers as a romantic gesture.
We believe this tradition should continue, so to show your loved one how much you are thinking of them, send them beautiful Valentine's Day flowers delivered by your local Liverpool Florist Booker Flowers and Gifts.
Special Offers - Terms & Conditions
To celebrate Valentine's this year we are giving all our customers a FREE box of chocolates, with all orders of £70 or more together with a voucher to receive £5 OFF their next purchase. We will add the free chocolate at the point of accepting the order on our system so don't worry that it is not in the cart or on your receipt.
To qualify for special offers please read these Terms and Conditions:
> Free Chocolates offer only valid on orders of £70 or more
> Only valid on orders for delivery and/or collection 11th to 14th February 2023
> Only valid on orders that we process ourselves (Liverpool postcodes: L1, L2, L3, L4, L5, L6, L7, L8, L11, L12, L13, L14, L15, L16, L17, L18, L19, L24, L25, L26, L27, L36, L70) If your order is for delivery outside of these areas then you will not be entitled to free chocolates or a £5 off voucher
> Only valid on orders from our Valentines Collection only
> Free Chocolate offer cannot be used in conjunction with any other offer
> Chocolates will automatically be added to your order (no voucher code needed)
> Offer subject to availability (item may vary from those illustrated)
>A free *£5 off voucher will be provided to all Customers who provide an email address. The voucher is valid on orders placed from 15th February to 15th March 2023 which includes Mothers Day deliveries up to and including 19th March 2023 on all orders over £60. Offer cannot be used in conjunction with any other offer
Booker Flowers and Gifts, 7 Booker Avenue, Liverpool, L18 4QY
Tel: 01517244850
Gemma@bookerflowersandgifts.co.uk
https://www.bookerflowersandgifts.co.uk